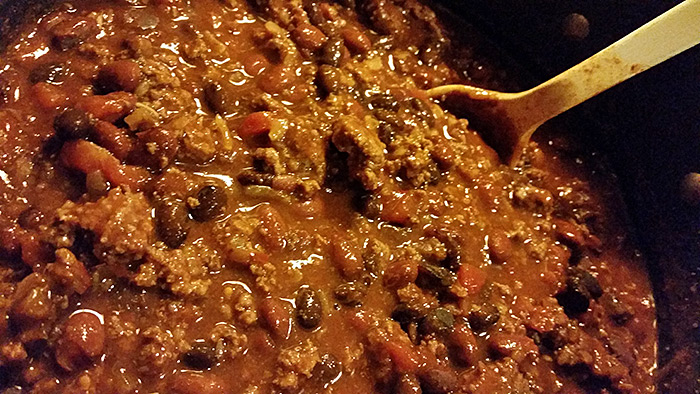 Love in a pot…my personal, go-to chili recipe!
Here is comes.  After several years of a baffling absence, I've finally decided to make public my very own, "top-secret", personal, Roberts-family chili recipe. This is the delicious, spicy, hearty, chunky, "go-to" chili that I developed several years ago, and it is the chili I make on a regular basis throughout the year.
Well, just to clarify, there's probably nothing too secretive about my ultimate, number one, primary chili recipe. I haven't been trying to hide it for any particular reason. I just…I don't know! I have no idea why I've never gotten around to posting this until now!
Well, this stuff is worth the wait. This killer chili recipe is an all-purpose crowd-pleaser that's good for any time, whether you need a hot, steaming bowl of chili love on a cold evening, or you need a hot dog topper for a spring or summer afternoon.
Ingredients
4 lbs. Beef
4 15 oz. Cans Brooks Mild Chili Beans
1 15 oz. Can Black Beans
1 Can Petite Diced Tomatoes
3 Tbsp of my Basic Chili Powder Mix
1 Tbsp Cumin
1/2 Cup Minced Onion
2 Diced Jalapeno Peppers
1 11.5 oz. Can V8 Juice
Directions
1. Cook ground beef, onion, and jalapenos in large skillet on medium-high heat 5-10 minutes, stirring occasionally until beef is browned and peppers and onions are caramelized. Drain fat.
2. In a large pot, add black beans and chili beans (both undrained…leave that juice in!), diced tomatoes, chili powder mix, cumin and can of V8 Juice. Bring contents to a boil. Reduce heat to low and add ground beef, onions, and jalapenos; cover and simmer 25-30 minutes, stirring occasionally.
3. Serve with shredded cheddar cheese, crackers, and additional chopped onion or jalapenos, if desired.