Scott Roberts is a Christian writer, church elder, men's ministry leader, columnist, blogger, and voice-over artist, and is developing and writing a fully fleshed-out book for Christian men's ministry called Warrior Disciple, slated for release in early 2023.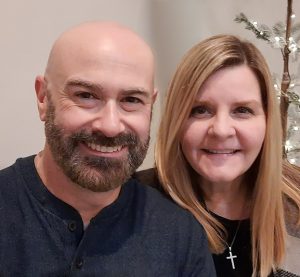 Scott was born and raised in Missouri, and currently resides in the Greater Toronto, Ontario Metro Area. He is a follower of Jesus Christ, worships and serves as an elder and ministry leader at Bayfair Baptist Church, and is a proud husband, father, and step-father.
Scott's other interests include reading, theology, cooking, nutrition, weightlifting and physical fitness, and playing guitar.
Writing, Blogging, and Voice-Over Artist
After having a decades-long passion for putting pen to paper (or fingers to computer keyboard), in the mid-2000s, Scott kicked off his writing and blogging career. He soon grew to have one of the most visited food blogs on the web and concurrently became one of the most prominent authorities and product reviewers in the fiery foods and BBQ industry. In 2011, Scott began a seven-year stint as a regular columnist and writer for Chile Pepper Magazine. Scott has been a regular guest on the most-listened-to barbecue and grilling show BBQ Central Radio Show. He has been featured in many media outlets, including NPR, the St. Louis Post-Dispatch, and several national and international radio programs.
He has been a podcaster and voice-over artist who has covered the gamut as a show host or co-host of food and entertainment podcasts to doing spots for 7-Eleven, Alamo Rental Car, plus numerous regional radio ads.
In recent years, he has felt led by God to focus on scriptural and spiritual matters, hence the creation of this website. Here on ScottRoberts.org, you can read his articles about faith, men's ministry, theology, apologetics, and other topics, as well as stay updated on his other writing projects.
From 2018 to 2020, Scott was involved with Soulcon Ministries as both former Captain of Team Canada and a devotional writer. Soulcon Ministries, the discipleship arm of Gibborim Studios, is committed to inspiring men to increase their fitness levels and embrace a special forces lifestyle for Jesus Christ. He was recently part of the writing staff for the 2020 book Soulcon Operator, published by Soulcon Ministries.
Seeing a need for a thorough men's ministry curriculum, Scott has developed the Warrior Disciple book, which is a long-term study tool for both small groups of guys as well as men's programs for churches of all sizes. Slated for release in early 2023, Warrior Disciple is a hard-hitting book that aims to train men to be bold men of God when it comes to marriage, parenting, leading and loving others, being evangelists, and being all-around fearless and passionate disciples of the Lord Jesus Christ.
Rak Chazak Amats!
---
See all of our website staff.
---
Scott Roberts' Recent Posts: