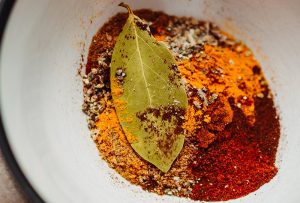 The secret to any great chili starts with an awesome basic chili powder recipe. A chili powder spice blend can be theoretically used to flavor up many different things (try mixing it in with some cuts of steak or chicken the next time you make burritos or fajitas!), but of course, its main usage will always be a good bowl of chili con carne.
Pitmaster Jack Waiboer of GrateTV recently asked me for an all-around good recipe for chili powder, when I realized that I had never posted it to this blog! So, for everyone's benefit to use as the core of your next bowl of chili, below is my chili powder recipe:
Basic Chili Powder Recipe
Ingredients:
1 Teaspoon Cayenne Pepper
4 Tablespoons Paprika
3 Teaspoons Cumin
3 Teaspoons Garlic Powder
1 1/2 Teaspoon Onion Powder
4 Teaspoons Oregano Leaf Flakes
And to make a hotter version for hardcore chileheads, add…
1/2 Teaspoon Habanero Powder (or an additional 1 Teaspoon Cayenne Pepper, to make a total of 2 Teaspoons of Cayenne Pepper)
Oh, and as you'll probably notice, this chili powder recipe mix is sodium-free. It's my opinion that a quality chili doesn't need a whole lot of salt – I may add a little to my pot, or rely on the sodium present in another component that I add with my chili – so you may wish to add a few dashes to your particular taste!
Like this seasoning? Try it in my complete Scott's Ultimate, Number One, Primary Chili Recipe.