Chick-Fil-A's Spicy Chicken Sandwich
It all started with viral marketing. I don't remember where I first heard of this online – Twitter, perhaps? Word spread and I was lucky enough to get caught in the knowledge flow. Don't you hate it when some time-sensitive promotion gets out and you don't hear about it until it's over? Thankfully I caught wind of it and was able to take advantage of it.
In a nutshell, the operation was carried out like this: Go to http://www.getspicychicken.com, find your local Chick-Fil-A restaurant, and fill out an online form to receive one of their new Spicy Chicken Sandwiches for free at the location you choose and at a specific date and time frame. You would print out a coupon, go in at the predetermined time and get what hopes to be chilehead gold.
Well, realistically no fast-food chain will develop a menu item that would adequately satiate the flame-mouthed dreams of your average, hardcore heat fanatic. At least not in the very near future. But we've seen glimpses of large companies getting close to producing real heat in the guise of items such as Fiery Habanero Doritos and Qdoba's Habanero Salsa. When a new "jalapeno this" or a "chipotle that" are introduced on supermarket shelves or in the drive-thru, chileheads everywhere are collectively wishing that this product won't become another watered-down clunker.
And that's what I was hoping for the Chick-Fil-A Spicy Chicken Sandwich. I had heard an early report from James Beck of EatMoreHeat.com, who had gotten his scheduled about a week before mine, that while this expectantly didn't blast his tongue with peppery fire, the Spicy Chicken did contain a little substantial heat.
James had also mentioned that the management had informed him that if he was able to finish this sandwich in its entirety without ingesting a single drink he would win a free shake. Wow, a chicken sandwich that could possess a little burn AND a potential spicy food challenge to boot for me? I was actually a little excited about this prospect.
On my day to test drive this puppy, I took my two boys up to the Chick-Fil-A location closest to me. I walked up to the counter with my coupon, inquired if they had any eating challenge associated with this. The Chick-Fil-A order taker replied no, but then directed me towards a female Chick-Fil-A employee towards the other end of the counter standing out on the customer side. She confiscated my coupon as I asked her for instructions. She informed me that because of this promotion, I could get a free side item and drink of my choice at no cost along with my free sandwich and that we would be getting tableside service and guided us to a spot in the dining area for my sons and me to take a rest.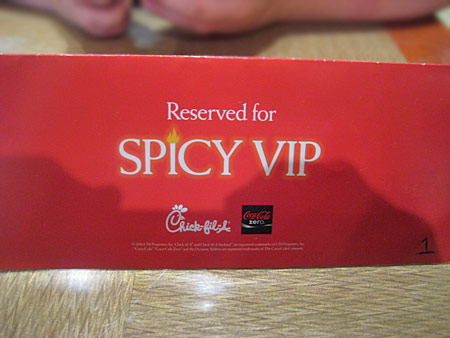 The same female employee returned shortly afterward and took our orders. Several minutes later our food was carried out to us and it was time to closely examine my wares.
To clarify, Chick-Fil-A offers two versions of their Spicy Chicken Sandwich. First, there is the "regular" Spicy Chicken Sandwich, containing only the breaded chicken fillet with pickles: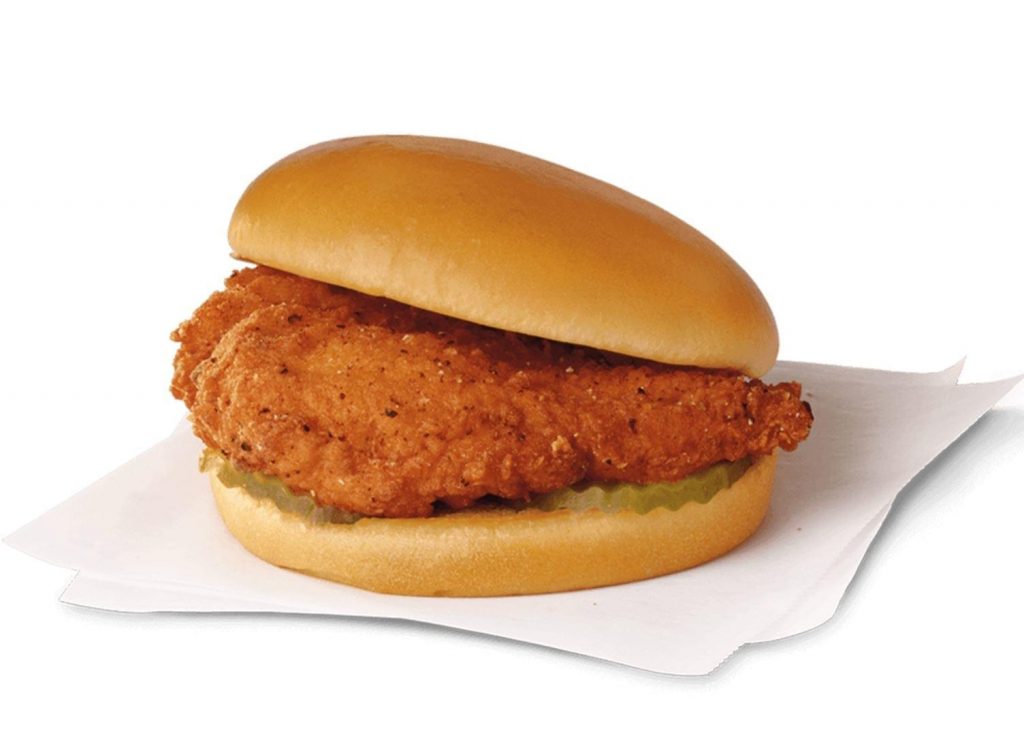 And there is the Spicy Deluxe Sandwich: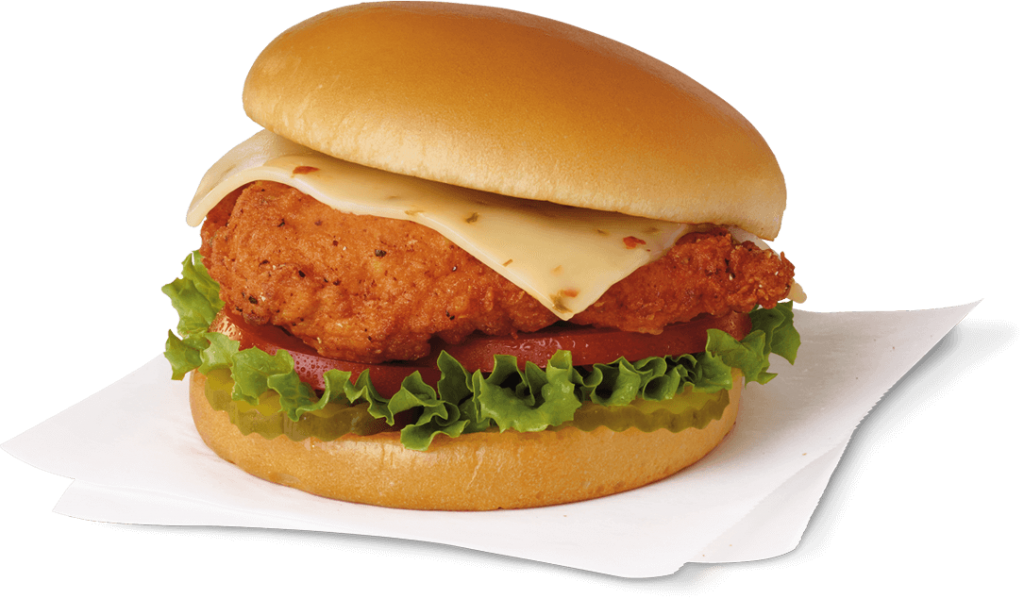 I had wanted the full force of flavor, so I had opted for the Spicy Deluxe Sandwich, with pepper cheese, lettuce, and tomato on my sandwich in addition to pickles.
Here is the Chick-Fil-A Spicy Chicken Deluxe Sandwich that I received: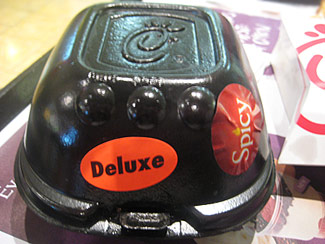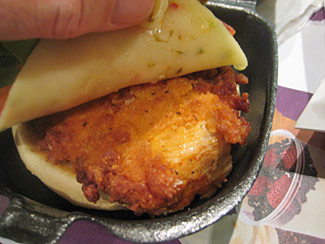 The Spicy Chicken breast patty was a touch redder than the normal Chick-Fil-A filet but appeared the same in every other way, including the texture and amount of breading.
I sunk my teeth into this beast and experienced chicken sandwich paradise. A great amount of crunch and crispiness were present and the chicken meat had perfect tearability chew after chew. The chicken inside was optimally juicy and moist. It had a superb blend of spices. The breading wasn't too greasy (a la the KFC Double Down sandwich) and the filet wasn't dry and bland (a la McDonald's). Chick-Fil-A's was spot-on and flawless. In addition to being better than all other quick-service chain chicken sandwiches I could think of, and in fact, this even gave most homemade chicken filet sandwiches a run for their money. Bottom line – this was very, very delicious.
Where was the heat, though? I had plowed through half the sandwich without detecting a single trace of spiciness. In this regard, disappointment was heavily weighing in while I was still smiling from the tastiness of the fast-food cuisine.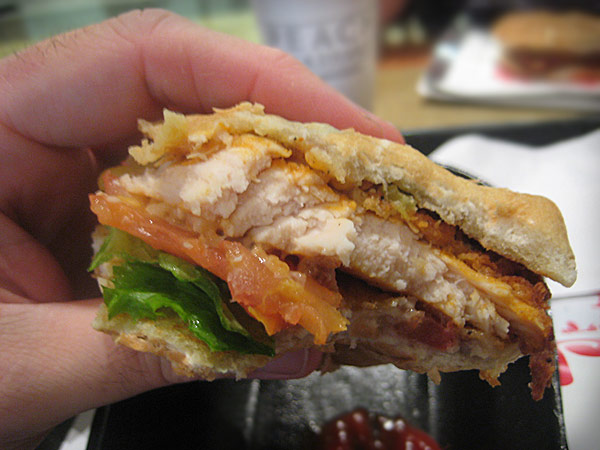 Thankfully, towards the last three or four bites, the patty was sticking out from the back of the bun. This would mean the remaining time I had to enjoy this I would get a greater amount of spicy chicken. In these few bites, the heat began to show up as if it were some of the most delayed burning I've ever encountered. If only there were this small tingling of peppery warmth at the onset instead of just the conclusion, this might have been the perfect chicken sandwich experience.
My verdict? Get it for a good little lunch if you're nearby a Chick-Fil-A, but don't expect a "Chilehead Holy Grail" by any means.
Taste: 5 out of 5. Heat: 1 out of 5. Overall Eating Experience: 4.5 out of 5.