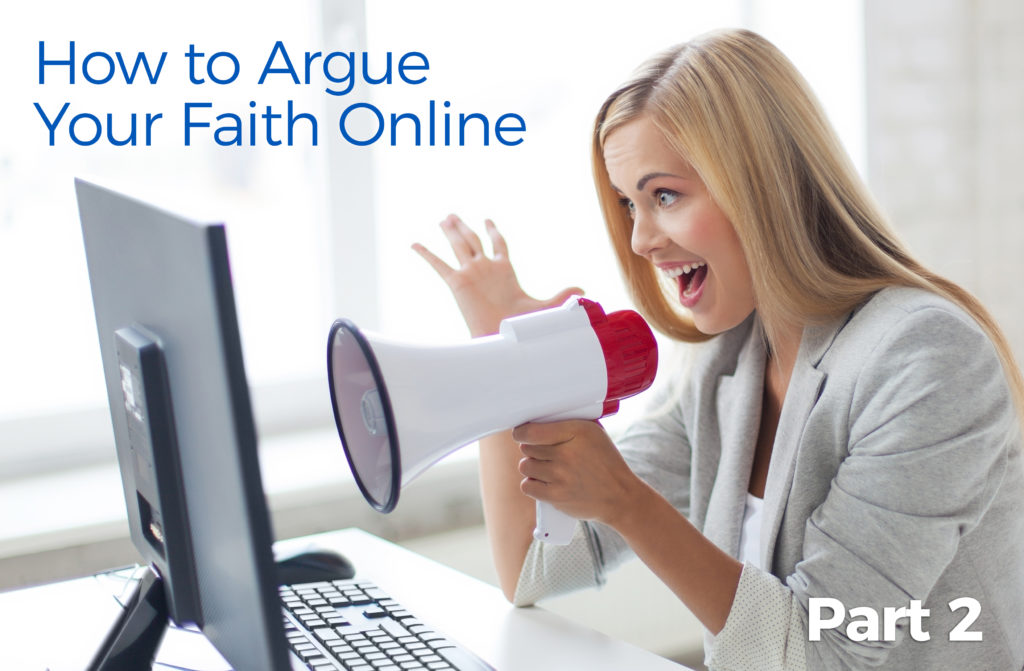 Here is the follow-up article to an earlier post, How to Argue Your Faith Online, Part One. Before proceeding, I urge you to read that post in full to get a more well-rounded understanding before continuing on with these. Go ahead. I'll wait.
Are you back? Excellent! This time out I'll introduce several more concepts, many of which tackle how you write and how you speak. Let's get to it immediately…
6. Study Up On Christian Apologetics
You do know that there is an entire field of study dedicated to defending the Christian faith, don't you? If not, then Christian Apologetics can be quite a revelation to you.
Some of you may know about Apologetics already. It is the investigation of the scientific and historical evidence that God exists, that Jesus Christ actually lived in history, that He died on the cross and rose from the dead, and that the Bible is the infallible Word of God. It's a fascinating study, and I think that all Christians should know about it, especially in this hostile, Godless world where atheists think that have a monopoly on science and reason.
Christian Apologetics is a topic that's very near and dear to my heart, and you bet you sweet bippy that I will be blogging more about it in the future.
If you are completely unfamiliar with it, it's recommended that you immerse yourself into this faith-enhancing, life-changing research as soon as possible. Below are a few apologists who were influential to me early on as a Jesus follower. There are many other great Christian Apologetic authors, researchers, historians, and resources worth your time and attention, but these are a good starting point. You can dig deeper at a later point if you desire.
John Ankerberg Show – Apologetics and Defense of the Faith
https://www.jashow.org/
John Ankerberg has had a TV show for more than 30 years where he presents the historic claims of Christianity, and also talks about comparative religions and the topic of Bible prophecy. I caught his show back in 1987 after I accepted Jesus as my Savior. I was a science and logic-loving skeptic of a teenager, and was questioning if God existed at all. The arguments presented in some of the series on this show helped solidify my faith in Christ that summer.
Lee Strobel
http://www.leestrobel.com/
Lee wrote many books in the "The Case for…" series. Lee was actually a newspaper reporter and an atheist trying to debunk Christianity, looked at the evidence, and gave his life to Christ because the proofs were so compelling. The 2017 biographical film "The Case for Christ" dramatically outlines Strobel's personal quest that led him from atheism to belief in Jesus.
Josh McDowell
http://www.josh.org/resources/apologetics/
Josh has a famous story (it was also made into a movie) about his alcoholic father and how Josh came to trust in Jesus. He's also a brilliant apologist, and his "Evidence That Demands a Verdict" books are must-reads for Christians.
As I mentioned, other knowledgeable Christian apologists are worth your time. On both Google and on YouTube, look up names such as Frank Turek, William Lane Craig, J. Warner Wallace, Ravi Zacharias, Norman Geisler, and, of course, C.S. Lewis, and see the breath of topics they cover when it comes to proving Christianity as being true.
7. Use Correct Grammar
Know basic grammar. Being able to construct and write English proficiently cannot be shunned as being the snobbish territory of "grammar Nazis," but it should be something commonplace for every educated Christ follower.
Forgive me for my bluntness here, but you are not going to be effective at arguing your Christian points if you appear as an imbecile. No one is going to take you seriously if you can't write.
There are few things stylistically that will cast a negative shadow on your case as quickly as when you use "text speak;" you know, a super-abbreviated form of rapid-fire communication that was popularized in the early '00s when it was more tedious to write a simple text because of the limited capabilities of a cell phone's numeric keypad. Now with the decade-plus-long availability of phones and devices with full QWERTY keyboards, auto-correct that will finish long words for you, and even voice-to-text tools, there is no excuse for spewing out messages that make you look like you're a 13-year-old girl from 2002.
What else? Well, not only should you know the differences between "Your" and "you're," "there," "their" and "they're," and "to," "too," and "two," but be aware of these other grammatical flubs as well:
Apostrophes don't form plural nouns. In other words, ONLY put an apostrophe at the end of a word if it's 1) possessive (such as "Scott's websites"), or 2) a contraction of the word and "is" (like the contraction of "Mike is going to church" is "Mike's going to church"). Other than these cases, NEVER USE APOSTROPHES WITH PLURALS WHEN YOU WRITE.
A tack-on to the previous point: know the difference between singular and plural apostrophes when they're possessive ("Paul's wounds were all over his body" and "the disciples' meal consisted of fish and bread").
Know the difference between "could of" and "could have."
Stop using run-on sentences. Use commas and periods when appropriate.
Don't type in ALL CAPS, don't use Random caps In Your sentences, and avoid typing in all lowercase even when capital letters are required.
There are a truckload of other writing no-nos with which I can flood you, but I will let you research some on your own.
One last little statement I want to give on this point: if, after reading all of this, you're still not budging to give up your attitude towards using proper grammar (which almost like a badge of honor in this dumbed-down, "Idiocracy" world), then please simply refrain from engaging in conversations online. You will do yourself and a lot of other Christians a gigantic favor that way.
8. Proofread, Proofread, PROOFREAD!!!
Out of any other point I bring up here, this guideline may be the one I personally have historically broken the most. At least with my writing style, it's easy to get my thoughts down "on paper" (technically, it would be "on screen") and immediately fire away with posting or publishing. Yeah, I know…wanting to shoot things out to others with lightning speed and getting on with your life can be understandable. But misspellings, grammar mistakes (see #7 above) or not realizing that auto-correct botched up your words can cause your online output to look all jacked up; and therefore, a poor debater.
Before blasting your thoughts to the world: slow down, stop, and give whatever it is you wrote a once-over and check that it reads legibly and error-free. THEN you can hit the "send" button.
 9. Speak Out of Love
"Do everything in love" – 1 Corinthians 16:14

"Hatred stirs up conflict, but love covers over all wrongs" – Proverbs 10:12

"Do to others as you would have them do to you." – Luke 6:31

"But love your enemies, do good to them, and lend to them without expecting to get anything back. Then your reward will be great, and you will be children of the Most High, because he is kind to the ungrateful and wicked." – Luke 6:35
Brothers and sisters, we cannot look down upon those we debate with. We cannot have even the slightest shred of hatred, disgust, resentment or ill will towards ANYONE. Jesus has instructed us to love our enemies, so no matter how much venom and hatred our verbal sparring partners throw at us, always retaliate with pure love. Paul stated in Ephesians 4:2, "be completely humble and gentle; be patient, bearing with one another in love."
As Christians, the act of love should be our calling card because we know God through Jesus Christ. The Apostle John explains, "dear friends, let us love one another, for love comes from God. Everyone who loves has been born of God and knows God. Whoever does not love does not know God, because God is love." (1 John 4:7-8) And according to Jesus in Matthew 22:37-40, love is the greatest commandment: "…'Love the Lord your God with all your heart and with all your soul and with all your mind.' This is the first and greatest commandment. And the second is like it: 'Love your neighbor as yourself.' All the Law and the Prophets hang on these two commandments."
It's time to take a step back and see that we as Christ followers and acting and speaking out of love.
10. Don't Argue to Win. Only Argue to Present the Truth
If you didn't know, the majority of online feuds dealing with politics and religion will result in neither side changing their mind. If you expect everyone to automatically switch sides, then you are being naive. According to 1 Corinthians 2:14, "The person without the Spirit does not accept the things that come from the Spirit of God but considers them foolishness, and cannot understand them because they are discerned only through the Spirit."
Of course, I believe in a miracle working God. Through prayer and His divine will, if God tugs at someone's heart, and if someone's heart is ready for surrender and accepting Jesus into it as Lord and Savior, then that is a wondrous miracle. But your objective is to stand up and present the truth.
You never know; even though a well-presented argument may not immediately sway someone into believing in Jesus Christ or the existence of God, it could have some effect on them over a period of time. Seeds could be planted in the doubter's mind; and at some point, build up to where they may start considering turning towards God. It is up to the person's free will and up to God if a debate ends up in a conversion. It is just up to you to be obedient and spread the Gospel.
11. Don't Commit Logical Fallacies
A logical fallacy is an error in reasoning or arguing that undermine the logic of your position. Logic dates back thousands of years, but dozens of specific logical fallacies have been identified and defined in the past few hundred years, especially ones that are used in fields of law, philosophy and religion.
When you or your opponent use a logical fallacy, it basically cheapens the effectiveness of your argument. Many fallacies can be brought up in a debate without either side knowing it. A handful of the most used fallacies are:
Non sequitur – where things don't follow, assumptions are made erroneously, or where a topic is brought up that has nothing to do with the main argument.
Ad hominem – where there are personal attacks against an opponent as opposed to properly refuting their argument.
Tu quoque – a deflection technique where you point out wrongs in your opponent without clearly explaining your own wrongs.
Strawman – where you exaggerate, misrepresent, or just lie about someone's argument to make it easier to attack them.
There are numerous other fallacies on which you should read up. The website yourlogicalfallacyis.com is a cleverly-designed and easy-to-use resource covering a couple dozen of the top fallacies used in conversations today.
Ultimately, God's authority, God's ways, and God's infallible Word trumps anything you can prepare yourself using only worldly methods involving language and communication. Yet if you employ these guidelines when presenting your case, you can make it air-tight logically as well as biblically.
12. What Would Jesus Do?
Yeah, admittedly the impact of the whole "WWJD?" thing has gotten watered down and overused nowadays. Yet at its pure, Biblical core, this message is still vital and applicable in so many ways in our lives!
As Christians, we are called to be like just like Jesus, and even though we are saved sinners, we are to follow His sinless example of living. Paul proclaimed, "Follow my example, as I follow the example of Christ." in 1 Corinthians 11:1. Paul also wrote, "Therefore, be imitators of God, as dearly loved children. And walk in love, as the Messiah also loved us and gave Himself for us, a sacrificial and fragrant offering to God." in Ephesians 5:1-2 and "In your relationships with one another, have the same mindset as Christ Jesus: Who, being in very nature God, did not consider equality with God something to be used to his own advantage; rather, he made himself nothing by taking the very nature of a servant, being made in human likeness. And being found in appearance as a man, he humbled himself by becoming obedient to death – even death on a cross!" – Philippians 2:5-8
Are we being obedient to God the Father and to His Son, our Lord Jesus Christ? We as believers should present our bodies "as a living sacrifice, holy and acceptable to God, which is your spiritual worship. Do not be conformed to this world, but be transformed by the renewal of your mind, that by testing you may discern what is the will of God, what is good and acceptable and perfect." – Romans 12:1-3
So…if Jesus were here physically nowadays, would He speak to someone in the manner we usually do? I don't know about you, but I'm quite often sarcastic and snarky, and I sometimes like to shoot off harsh little verbal zingers at people. This is not good, and it's something I know I need to let God work on in my heart. And if you are in the same boat, consider clamping down on amount of cutting comments to people.
Yeah, it's really easy – and extremely tempting – to start going after somebody who disagrees with you. It's a highly common occurrence when politics are involved. People who are on the liberal side of the fence have vicious stereotypes about those who are on the conservative side, and conservatives have nasty stereotypes that they use against liberals. Do not fall into this trap. People, we are Christians first. An in being so, we must because become imitators of Jesus Christ. Make sure our arguments and doctrine are 100% rooted in Him, not in American or world politics.
Yes, Jesus had no qualms about speaking boldly to and calling out some of the hypocrites and religious leaders of His day, but He also spoke in love…in truth…and in the perfect will of God the Father.
Being just like Jesus goes in perfect synchronization with other points in this two-post series on this blog, including #2 (Being Well-Versed in Scripture), #3 (Being in Accordance with the Holy Spirit), #9 (Speaking Out of Love), and #10 (Arguing to Present the Truth).
Go Forth!
Take everything in Part One and here in Part Two into consideration, pray to and trust in God, and He will see you through:
"Trust in the Lord with all your heart and lean not on your own understanding; in all your ways submit to Him, and He will make your paths straight." – Proverbs 3:5-6

"But sanctify Christ as Lord in your hearts, always being ready to make a defense to everyone who asks you to give an account for the hope that is in you, yet with gentleness and reverence." – 1 Peter 3:15
What do YOU think? Are there any other great tips or methods I might have forgotten about? Let me know about them in the comments below!