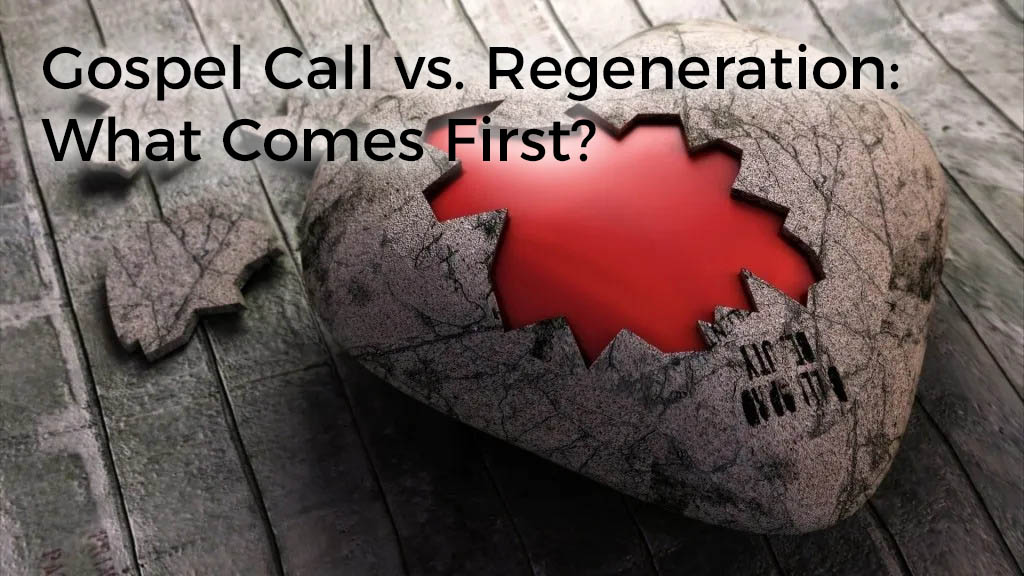 After Predestination and Election, what is it that comes first in the Ordo Salutis (Order of Salvation) when God in "real-time" goes to save someone? Is it the act of hearing or reading the Gospel of Jesus? Or is it the divine act of regenerating a soul, AKA being born again, where God makes a spiritually dead man alive?
It appears that the Gospel Call (not God's Effective Call, but the actual human-transmitted speaking and preaching of the Word of God/Gospel of Jesus Christ) precedes Regeneration by the Holy Spirit. The Gospel Call (which is the written/spoken Word) is not the material of the spiritual new birth, but rather it is the mean or medium through which the knowledge of the saving Gospel is made known. The Holy Spirit does the actual work of regeneration.
Scriptural Basis
The following passages state that the preaching or hearing of the Word of God comes before salvation.
"You have been born anew, not of perishable seed but of imperishable, through the living and abiding Word of God…that is, through the living and enduring Word of God."
– 1 Peter 1:23, 25
"He chose to give us birth through the Word of truth, that we might be a kind of firstfruits of all he created."
– James 1:18
"In Him you also trusted, after you heard the word of truth, the gospel of your salvation; in whom also, having believed, you were sealed with the Holy Spirit of promise,"
– Ephesians 1:13
"Brothers, my heart's desire and prayer to God for them is that they may be saved. 2 For I bear them witness that they have a zeal for God, but not according to knowledge. 3 For, being ignorant of the righteousness of God, and seeking to establish their own, they did not submit to God's righteousness. 4 For Christ is the end of the law for righteousness to everyone who believes."
"5 For Moses writes about the righteousness that is based on the law, that the person who does the commandments shall live by them. 6 But the righteousness based on faith says, 'Do not say in your heart, "Who will ascend into heaven?"' (that is, to bring Christ down) 7 'or '"Who will descend into the abyss?"' (that is, to bring Christ up from the dead). 8 But what does it say? 'The word is near you, in your mouth and in your heart' (that is, the word of faith that we proclaim); 9 because, if you confess with your mouth that Jesus is Lord and believe in your heart that God raised him from the dead, you will be saved. 10 For with the heart one believes and is justified, and with the mouth one confesses and is saved. 11 For the Scripture says, 'Everyone who believes in him will not be put to shame.' 12 For there is no distinction between Jew and Greek; for the same Lord is Lord of all, bestowing his riches on all who call on him. 13 For "everyone who calls on the name of the Lord will be saved."
"14 How then will they call on him in whom they have not believed? And how are they to believe in him of whom they have never heard? And how are they to hear without someone preaching? 15 And how are they to preach unless they are sent? As it is written, 'How beautiful are the feet of those who preach the good news!' 16 But they have not all obeyed the gospel. For Isaiah says, 'Lord, who has believed what he has heard from us?' 17 So faith comes from hearing, and hearing through the word of Christ."
– Romans 10:1-17
God opens the hearts/spiritual "ears" and "eyes" to the unsaved to hear the Gospel message, just like He did with Lydia in Acts 16:14:
"One who heard us was a woman named Lydia, from the city of Thyatira, a seller of purple goods, who was a worshiper of God. The Lord opened her heart to pay attention to what was said by Paul."
So Paul was preaching to Lydia's "uncircumcised" ears as, according to 1 Corinthians 2:14, "The natural person does not accept the things of the Spirit of God, for they are folly to him, and he is not able to understand them because they are spiritually discerned." For those whom God has elected and chosen through His Effective Call, he gives new life to the person through the Spirit and regenerates them after they hear the vehicle of the spoken/written word (AKA The Gospel Call).
There are also reports of people like Muslims who, while being in a geographic area not touched by missionaries, have a vision of Jesus and are saved by that means. I have not investigated any of those claims. But if these stories have validity, these words spoken by Jesus could be considered the "Gospel Call," to which the unsaved may be born again and respond positively.
Implications
Because people need to hear the Gospel in order to be saved ("For 'everyone who calls on the name of the Lord will be saved.' How then will they call on him in whom they have not believed? And how are they to believe in him of whom they have never heard? And how are they to hear without someone preaching? So faith comes from hearing, and hearing through the word of Christ." – Romans 10:13-14, 17).
The possible implications are as follows. If someone is really saved by "general revelation" and is regenerated before they hear the Gospel, then:
They do not know the full nature of sin and the separation it makes between them and God.
They have no knowledge of how to receive reconciliation between them and God.
They know nothing of the Person and work of the Lord Jesus Christ (His deity, His virgin birth, His sinlessness, His atoning death on the cross, His burial, and His resurrection).
We must KNOW Jesus Christ personally (Matthew 7:23, John 17:3).
They know nothing about their new regenerative state: We are born again (John 3:3) and we become a new creation (2 Cor 5:17) by receiving the indwelling Holy Spirit (Romans 8:9); we are no longer slaves to sin (Romans 6:6-7) and are being transformed (sanctified) into the likeness of Jesus (2 Cor 3:17-18) through the Spirit.
I think it may be possible for God to draw someone (who is elect) to Him, keep them "safe" for a period of time, and even have that person "experience" God somehow (His presence, etc.). Then at a later date, the person's ears will be opened by God to have a genuine understanding of the Gospel and undergo true regeneration. I'm open to counter-arguments, but I don't see any strong Scriptural evidence of regeneration preceding the Gospel Call.
Up For Discussion: John the Baptist? Invalids? Infants?
Are there exceptions? There may be cases where it seems like someone can be regenerated before hearing the saving message of Christ.
What about the case of John the Baptist, who was full of the Holy Spirit while he was in the womb (Luke 1:41)? Was he saved/regenerated at that point? Did he trust God/Christ at some later date when he would have understood salvation better?
What about the case of Cornelius, who in Acts chapter 10 feared and worshiped God before hearing the Gospel spoken by Peter later on in the chapter? Was Cornelius really born again/saved earlier in the story? Answer: It seems like the Holy Spirit was not poured out on him/them until after Peter spoke of the Gospel.
What about the case of invalids who are unable to take in and fully comprehend the Gospel coherently? The disabled or mentally ill? What about infants and small children? Is there any truth to the "Age of Accountability?"
Please give me your thoughts below!