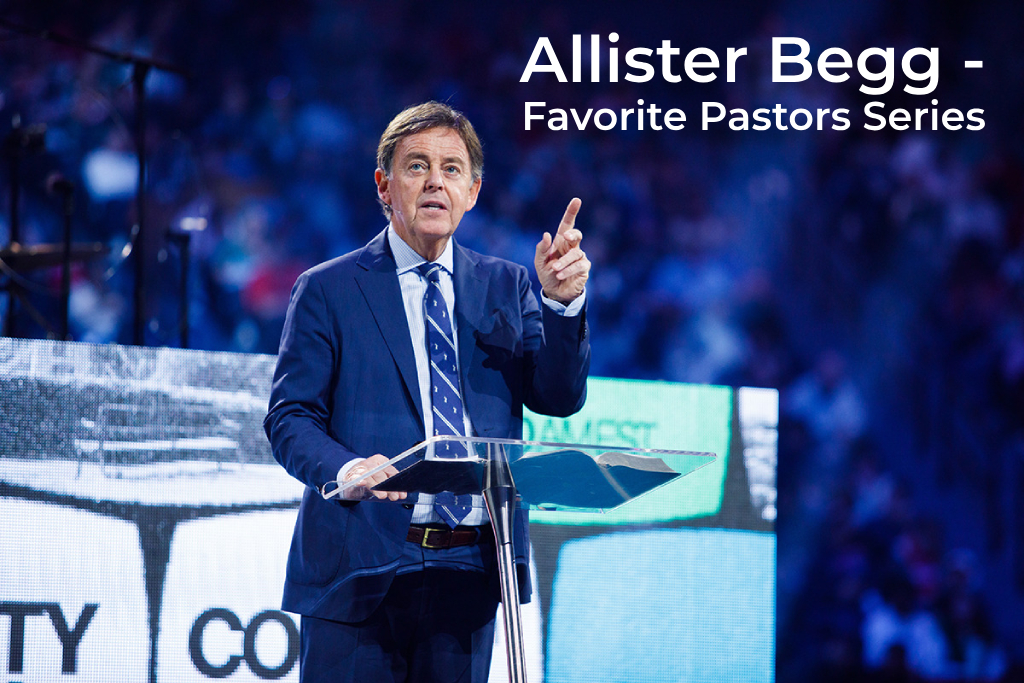 One of my absolute favorite expositors and storytellers has to be Allister Begg, the latest in my Favorite Pastors Series.
Pastor Alistair Begg is a prominent figure in contemporary Christian ministry, known for his faithful preaching, commitment to biblical truth, and dedication to the expository teaching of the Word of God. He has had a significant impact on countless lives through his pastoral work, radio broadcasts, and writing.
Alistair Begg was born on May 23, 1952, in Glasgow, Scotland. Raised in a Christian family, he was introduced to the Scriptures at an early age. As a young man, he developed a passion for studying the Bible and felt a strong calling to proclaim the Gospel.
Begg pursued higher education at the London School of Theology (formerly London Bible College), where he completed his theological training. During his time there, he was profoundly influenced by the teachings of Martyn Lloyd-Jones, a renowned preacher and theologian, who emphasized the authority and sufficiency of Scripture.
After completing his studies, Alistair Begg served as an assistant to two prominent pastors in the United Kingdom. He gained valuable experience and honed his preaching skills during these early years of ministry. He moved to the United States, and in 1983, he became the senior pastor at Parkside Church in Cleveland, Ohio, where he has faithfully served for over four decades.
Under Begg's leadership, Parkside Church has grown into a thriving congregation that emphasizes the expository preaching of the Bible. His sermons are characterized by a clear and straightforward presentation of biblical truths, engaging storytelling, and practical application. Begg has a unique ability to connect with people from all walks of life, and his teaching resonates with individuals of various ages and backgrounds.
In addition to his pastoral duties, Alistair Begg has used radio as a platform to reach a broader audience with the message of the Gospel. His radio program, "Truth For Life," began broadcasting in 1995 and has since become internationally recognized. The program features his sermons and teachings, which are aired on numerous radio stations around the world. Through "Truth For Life," Begg's ministry has touched the lives of countless individuals, providing them with solid biblical teaching and practical Christian living guidance.
Pastor Alistair Begg is also an accomplished author. He has written several books that reflect his passion for biblical exposition, including "Made for His Pleasure: Ten Benchmarks of a Vital Faith," "What Angels Wish They Knew: The Basics of True Christianity," and "Preaching for God's Glory." Begg's writings delve into various aspects of the Christian faith, offering readers a deeper understanding of Scripture and practical insights for living out their faith.
Throughout his ministry, Alistair Begg has remained steadfast in his commitment to the authority and sufficiency of the Bible. He upholds the essential doctrines of the Christian faith, including the deity of Christ, the necessity of faith in salvation, and the reality of sin and redemption. Begg's preaching is characterized by a firm reliance on the Word of God, seeking to explain and apply its teachings in a way that is both faithful and relevant to contemporary audiences.
Pastor Alistair Begg is a humble and devoted servant of Christ, known for his unwavering integrity and genuine love for people. He and his wife, Susan, have been married for over four decades and have three grown children.
Begg's impact extends far beyond his immediate congregation. His sermons and teachings are widely distributed through various media platforms, reaching millions of people globally. His commitment to expository preaching, biblical fidelity, and pastoral care has inspired and equipped many pastors and believers around the world.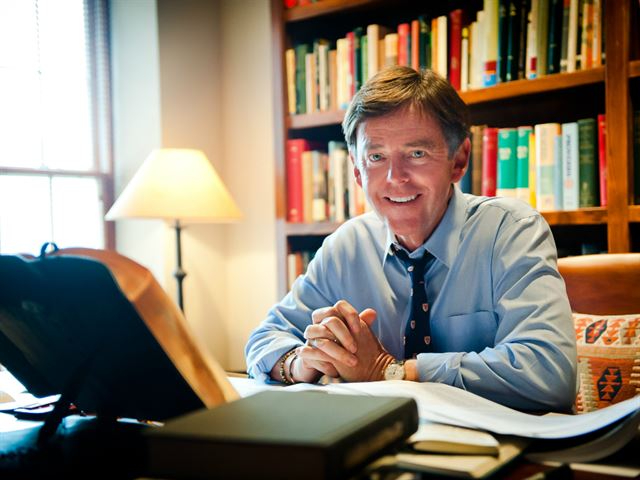 As a respected figure in the Christian community, Alistair Begg continues to influence and shape the lives of countless individuals through his faithful ministry, reminding them of the unchanging truths found in God's Word and encouraging them to live lives that honor Christ.
Why Allister Begg?
Begg has a faithfulness to Scripture. One of the primary reasons devout Christians appreciate Begg's preaching is his unwavering commitment to the authority and sufficiency of the Bible. He approaches the Scriptures with deep reverence and diligently seeks to communicate its truths accurately. His sermons are grounded in biblical exegesis and sound doctrine, providing believers with a solid foundation for their faith.
He uses an expository preaching style in his sermons. Begg is widely known for his expositional preaching style, which involves systematically and sequentially exegeting upon the meaning and application of a biblical text passage by passage, chapter by chapter, and book by book. Mature believers value this approach because it allows them to gain a comprehensive understanding of God's Word. Through expository preaching, Begg helps believers uncover the riches of Scripture and gives his listeners ways to apply its teachings to their daily lives.
I think that Begg is one of the preeminent pulpit communicators of our day. He possesses a remarkable ability to communicate complex theological concepts in a clear and accessible manner. He presents biblical truths with simplicity, using relatable illustrations and real-life examples. This clarity enables listeners to grasp the message and apply it to their lives effectively. If you listen to (or watch) a Begg sermon, you know that you're in for a remarkable ride of 45-50 minutes of expertly dulled-out encouragement, conviction, and deep biblical insight all rolled into one, with razor-sharp illumination given with a gentle Scottish accent.
Gospel-centered preaching is an absolute must in any pastor's arsenal, and Begg delivers this in spades. He consistently emphasizes the centrality of the life, death, and resurrection of Jesus Christ as the foundation of salvation and the Christian faith. True followers of Christ resonate with Begg's focus on the redemptive work of Christ, as it reminds them of the core message of Christianity and the hope they have in Jesus that we should preach to ourselves every day.
While Begg's preaching is firmly rooted in Scripture, he also emphasizes the practical application of biblical truths. He connects the timeless principles found in the Bible with the challenges and struggles believers face in their everyday lives. Growing Christians appreciate this practicality, as it helps them understand how to live out their faith and navigate the enormous complexities of a fallen world in a manner that honors God.
Alistair Begg's humble and authentic demeanor resonates in every sermon he gives. He exemplifies a genuine love for God and people He does not shy away from addressing difficult topics or speaking the truth in love. His humility and sincerity create an atmosphere of trust and enable listeners to connect with his message on a personal level.
When I first met Begg at the final Together For the Gospel conference in Louisville, Kentucky in April of 2022, he was gushingly warm and talkative to me and another brother Christ whom I was with. He was personable and engaging, asking questions of us two until he had literal seconds to go before he had to be on stage.
I highly appreciate Alistair Begg's preaching because it provides them with biblically grounded teaching, practical application, and a clear focus on the Gospel. His commitment to faithfully proclaiming God's Word and his genuine love for the Lord and his people have made him a trusted and respected voice in the Christian community. My advice for you is to listen to a few messages and see for yourself why Allister is one of the top reformed voices of our day.
Find Out More
Allister Begg Sermons –
https://www.truthforlife.org/resources/most-recent-sermons/
Allister Begg's ministry Truth For Life Main Page:
https://www.truthforlife.org/