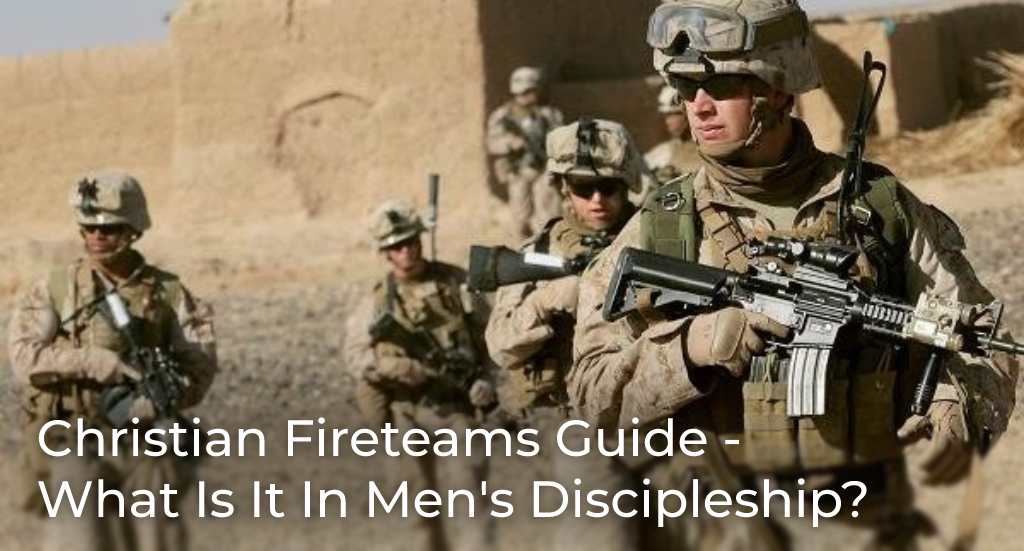 The following is a preview guide for my upcoming men's ministry book, Warrior Disciple. As it pertains to discipleship, it discusses what a fireteam is, how to form a fireteam, and how to conduct your fireteam meetings.
Christian discipleship is the belief and act of following Jesus Christ with your whole life. Since we as disciples are commanded to create other disciples (Matthew 28:19-20), making sure that our fellow brothers and sisters in Christ are learning, growing, and feeling supported in their spiritual walk is a vital aspect of our own discipleship. Taking the guidance of Ecclesiastes 4:12 ("And though a man might prevail against one who is alone, two will withstand him—a threefold cord is not quickly broken." [ESV]), having the support of other believers will ensure more success in our time here on earth.
Forming and participating in a "fireteam" follows that approach closely. You will learn more about this in Session Five of the Warrior Disciple book, but here is a general overview of what a fireteam is and what it encompasses:
What is a Fireteam?
The term fireteam originates from the smallest official grouping designation in military forces, both for America and her allies. A fireteam is a small unit consisting of two to four (and sometimes up to five) Army soldiers or Marines. The specific roles of each member of a military fireteam can vary, with each individual soldier or Marine sometimes handling their own specialty within the small group.
Yet the overall reason a fireteam exists is simple: to ensure that this modest crew of warriors operates as a cohesive team and, in the midst of patrols, during deployment, or in outright war, to be able to execute the mission. Members of a military fireteam are trained to be highly agile and adaptable and have each other's "six" at all times. Through all aspects of daily military life, training, and combat, fireteams can grow closer than brothers.
These warriors will train together, work mess duty together, and pull watch together. A fireteam will often function not just as a hodgepodge crew of individuals who sometimes do things together but as one. The tightest of bonds are formed (outside of marriage, of course). In peacetime and wartime, a fireteam must function as one to fulfill its mission objectives.
Jesus Had His Inner Circle of Disciples
While Jesus chose the Twelve to be His core group of disciples, it is evident that He chose out of those twelve an even smaller unit of three that many have given the term "Inner Circle." This close-knit group of three chosen men consisted of Simon Peter, James, and John, who accompanied Jesus on a few close special assignments and witnessed things the other nine had not seen first-hand, such as the Transfiguration and Jesus' excruciating, prayerful struggle in the Garden of Gethsemane before His arrest and crucifixion.
While we don't have the specific reason why Christ handpicked Simon Peter, James, and John to be a part of this smaller unit, we know that they (along with Simon's brother Andrew) were the first disciples of the Twelve, so they had known Jesus the longest. These guys were tight. They knew each other like the back of their hands. And they were Jesus' closest earthly friends.
Our Fireteam is Our Inner Circle
We, as disciples of Jesus, can follow this same model. In our quest to "do life together," assembling smaller groups of three or four brothers is a way to truly get to know one another and push each other closer to Christ.
Whether you call these three or four men terms like fireteams, inner circles, or accountability groups, we all must get together as brothers in Christ and form these bonds as we carry out the mission objectives of our "Supreme Commander," our Lord and King Jesus Christ: going to make other disciples, spreading the Good News, and loving one another. I urge you to form one with a few close Christian buddies.
How to Form Your Own Fireteam
We are all in varying places regarding our relationships with other guys. Some of us have the benefit of enjoying friendship with multiple born-again brothers, while others may not know any men who are serious, vocal Christians.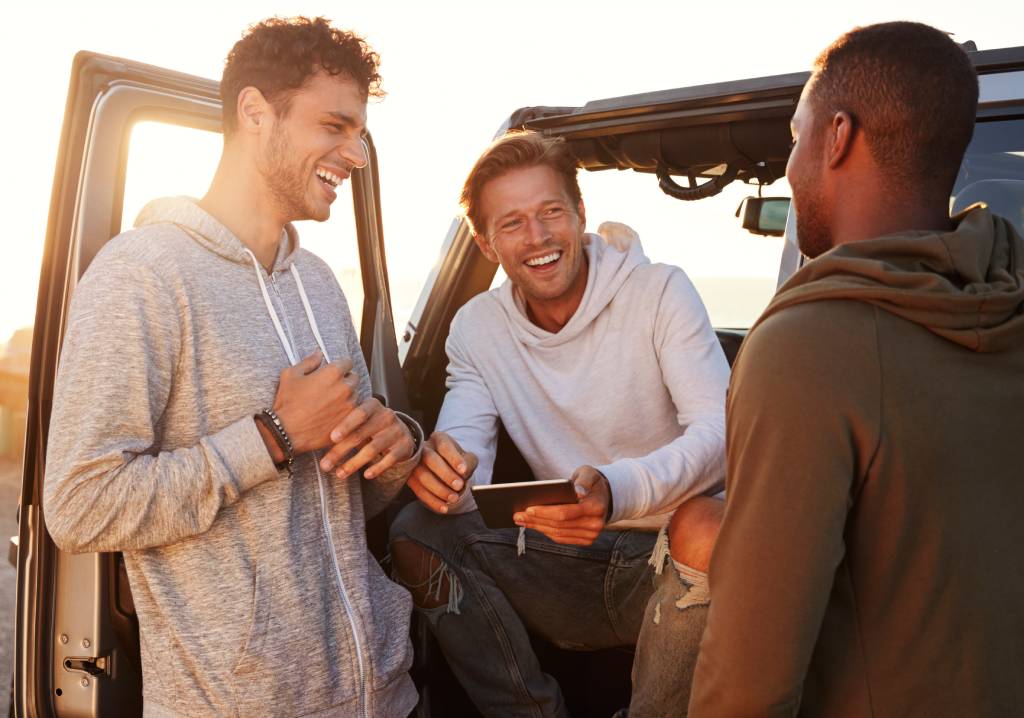 If you are blessed to know several brothers who may be interested, simply take the initiative and call them or plan a face-to-face chat with them, tell them your urgency about forming a fireteam group, and ask if they would like to jump on board with you and a few others for prayer, mutual accountability, confession, encouragement, and a commitment to live a godly lifestyle.
Maybe you're in a position where you know very little or even no other male Christians. Don't lose heart. It may take a little time, but it's worth it to assemble a crack team of Jesus-loving warriors. If your church has a men's group, this would be the ideal "harvest field" from which you can recruit members. Or join a small, weekly discipleship group. Strike up a conversation before or after the meeting with like-minded guys. Get to know where they are in their walk with Christ. Simply ask them if they would be interested in diving deeper into men's discipleship and tell them all the benefits of accountability and mutual encouragement.
For those of you without a structured men's ministry, seek out other guys before or after your regular Sunday church service. Don't be afraid; walk up to a few men and inform them that you would like to get together for one-on-one or group get-togethers where you can openly have conversations about the Bible and God.
Find out where you can serve in your local church. It could be technology, youth, and kids ministry, the greeters' ministry, the parking team, the coffee bar team, the worship team, or many other places. It shouldn't come as a surprise to find other enthusiastic believers hungry to band together to help each other grow in the Lord.
Another great avenue for finding other devoted Christian men is directly going to your ministry leaders. Contact your lead pastor and ask if he would be interested in forming a fireteam. Or talk with an associate pastor, the worship leader, the youth leader, a few of the elders, the facilities manager, or other male church staff or volunteers. They're often craving brotherhood and fellowship themselves and may be receptive to being a part of your squad of men.
What You Do in Your Fireteam
Let's say you have two, three, or four other guys ready to join this inner circle. What do you do in it? How do you run it?
First, realize that it's quite alright to have this small group of individuals outside of your church! Remember that every Christian gathering doesn't have to be a part of an official church program. It's okay for other believers to assemble together without it being a formally sanctioned church event or group. Just don't use the name of your church in any official capacity without the express written permission of the church.
A fireteam's aim should be to grow as disciples of Christ, to dig deeper into God's Word, and to help each other as we traverse the pitfalls and struggles of the Christian life. Be that iron that sharpens iron (Proverbs 27:17)!
You and your buddies, as a fireteam, do not need to have any established agenda. Although you as a group can do a Bible or Christian book study (and even go through Warrior Disciple together if you are not going through the course elsewhere!) or create your own specific plan of activities, the overall point is to be there for one another as brothers in Christ. I encourage you to meet together and chat about your lives. And pray together! Prayer must be a required element of your fireteam's very existence. Come to God in constant, expectant prayer at the beginning and end of your meetings, and pray for each other frequently throughout the week.
Regarding your fireteam's conversations, try to go beyond surface-level niceties, empty sports talk, or endless, mind-numbing political complaining. Instead, inform each other of the battles we face as men in our daily lives, and yes, confess our sins and weaknesses (more on that last part in a second). Offer each other encouragement, strength, prayer, and genuine brotherly love for each other. Share the high points where you've seen God move in your life, as well as times you've struggled, maybe didn't follow God, and felt like a bonehead for doing that.
I know that, as men, it's tough to open up to each other. We want to feel tough, macho, rugged, independent, and like we have it all together. There's something about striving to be an alpha male that prevents us from lowering our psychological guards and exposing our vulnerabilities, flaws, and sins. But we as Christians should be able to admit that we are weak on our own and not only desire God's strength and assistance but be open to receiving help from others in the church, too.
Hold each other accountable to battle sin in your own lives. Don't be afraid of gently rebuking, correcting, restoring, and steering each other biblically.
Have an understanding with all of your fireteam members about the confidentiality level of the personal subject matter you discuss. Please keep vulnerable, intimate conversations among yourselves, and ask for permission before you ask people outside your team.
It's beneficial that your fireteam connects outside of the "main" church functions and meetings like Sunday services and Saturday men's ministry meetings. Don't just look at the official church calendar. Aim to meet whenever you can, in whatever way you can. You can perhaps set up a video chat with your fireteam members once per week during a time that works best for you. Other examples of fireteam meetings include having a weekly early morning prayer breakfast, grabbing a coffee together, or alternatingly meeting at each other's houses for a barbecue or just an evening powwow and Scripture study. Go the extra mile, make time for your brothers, and aid in each other's walk with Christ.
Go the extra mile and have each member be open for regular communication throughout the week. Offer to be available for phone calls. If applicable, discuss with your wife what times you can be there to communicate with your fireteam brothers.