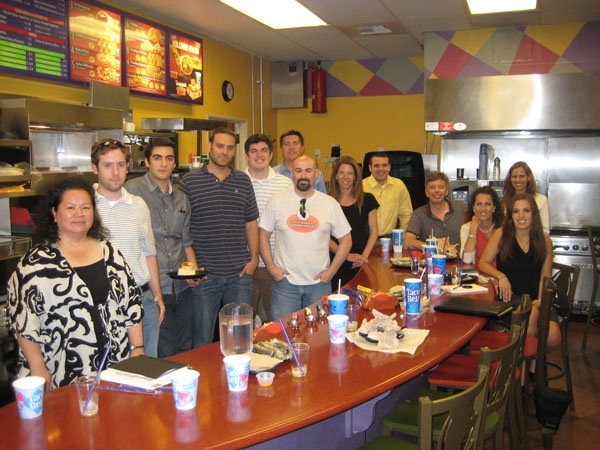 This week I was fortunate enough to be asked by Taco Bell (along with several other national food bloggers and writers) to get an in-depth look at the company's expanding Volcano Menu, which features the delicious new Lava Sauce.
Taco bell flew me out to their corporate headquarters in Irvine, California to visit their Test Kitchen and talk to the food innovators who created the Volcano line, sample the spicy wares, and even create my own custom menu item.
A walk into the main headquarters building was preceded by a visit to inside a mini-museum room containing displays that line the walls, and we were given a brief history lesson from Taco Bell's PR manager: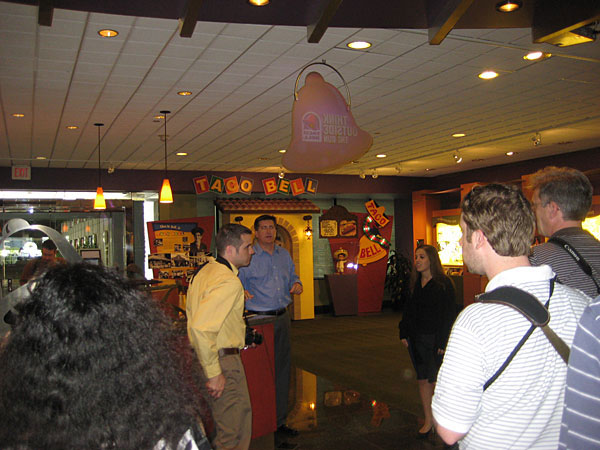 Displays featuring Glen Bell, Jr., who was Taco Bell's founder and owner until he sold the company to PepsiCo in 1978: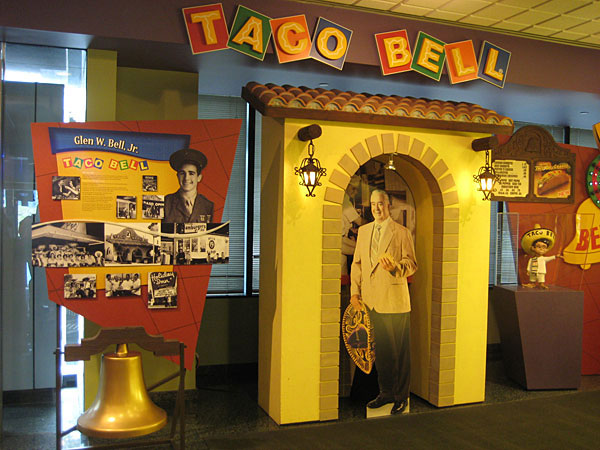 A welcoming Mexican boy underneath one of the original Taco Bell menus. The fourth item from the top is the Bellbeefer, which was loose taco meat on a hamburger bun; it was one of my favorites as a kid back in the 1980s: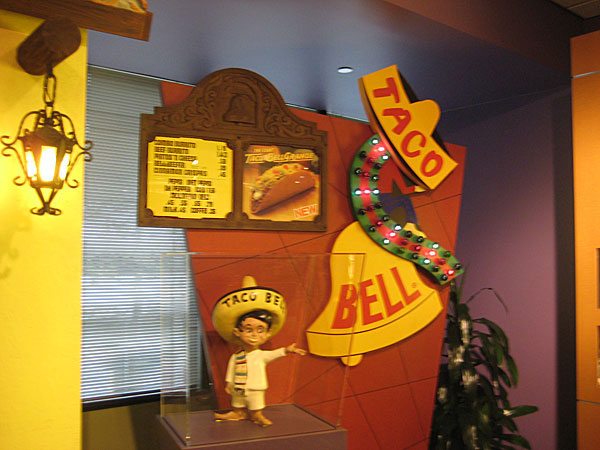 Displays chronicling Taco Bell's past as well as showing packaging on a lot of their past products:
Then it was off to the second building next door, which houses the Test Kitchen facilities.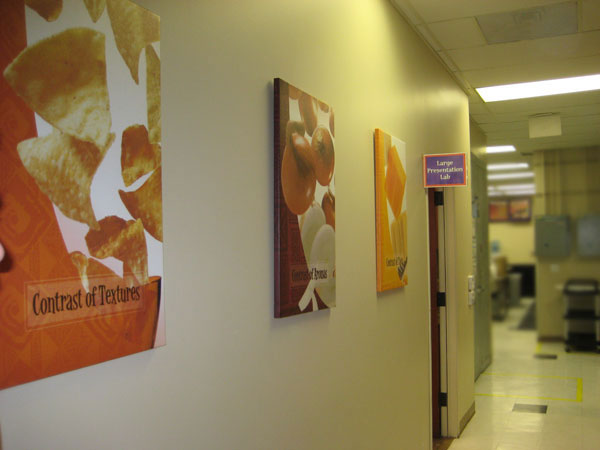 Inside the Taco Bell Test Kitchen, hearing about the Volcano Menu lineup, which includes the Volcano Box:
Origins of the Volcano Menu
After researching, Taco Bell saw the changing and burgeoning food climate and found that due partly to the increased ethnicity in American culture, and spicy cuisine was becoming more and more in demand. Any of you who've watched more than a half-dozen TV commercials in the past several years can attest that just about every fast-food chain has added some type of "spicy" offering to their menu. These supposedly "flaming" items can vary greatly in the heat level from the "one millimeter north of bland" to moderately spicy.
Taco Bell says that they wanted to feature something that chileheads would truly find worthy of the title "hot," yet still be palatable enough for casual consumers that typically eat milder food but may want to take a chance with a food item that contains a little kick. They researched numerous methods of delivering heat – peppery shredded cheese, hot sauces, salsas, tortillas, crunchy shells, and even seasoned meat, but finally deciding that a spicy cheese sauce, which they later dubbed Lava Sauce, would work best.
The next step would be finding out the ideal vehicle with which to unleash the fiery fury. Many menu items were considered, but it was settled on that the first representative of the Volcano line would be the traditional Crunchy Taco. Since the Taco was far and away the most popular thing that the Mexican-style QSR giant offers (the chain's 5,800+ stores sell around 2 billion of these annually), why not have it be the base that the scorching taste would be built upon?
Lava Sauce
We were given cups of pure Lava Sauce to taste:
It's a thick and zesty liquid with a similar consistency to Taco Bell's nacho cheese sauce. Lava Sauce contains some unmentioned spices but gets most of its hot punch from red jalapeño peppers.
How does it compare to Taco Bell's previously hottest sauce, the Fire Sauce? Honestly, I've never been a fan of Fire Sauce. I'll admit that their Mild Sauce is decent (and my youngest son goes absolutely bonkers over it – we even need to keep several packets on hand at home for him to use whenever we cook our own nachos, tacos, and burritos). But the Fire Sauce? It tastes too weak, processed, and "dark" for my liking.
Lava Sauce, on the other hand, is a winner. It's a condiment I could easily eat with a spoon all day. Heat-wise, its 800 Scoville Heat Units are over 50% hotter than Fire Sauce's 500 SHU. But the flavor is terrific, sporting a nice balance between spiciness and a good cheese flavor. The heat is gradual, as it slowly builds as you eat more and more of it. Lava Sauce would be something I would want to purchase for home usage (unfortunately, since Kraft Foods own the licensing for Taco Bell retail products sold in grocery stores, it is unlikely that this will happen any time soon).
Volcano Menu Items
The first food to taste was the Volcano Taco. I'm sure many of you may have already eaten this since it debuted last year. Since it's been a commercial success for Taco Bell, it's become a permanent fixture on their menu. Oh, and if you're wondering, the shell is dyed red just for marketing purposes; other than the color, there is absolutely no difference between this and the normal Crunchy Taco shells. All the heat is derived from the Lava Sauce.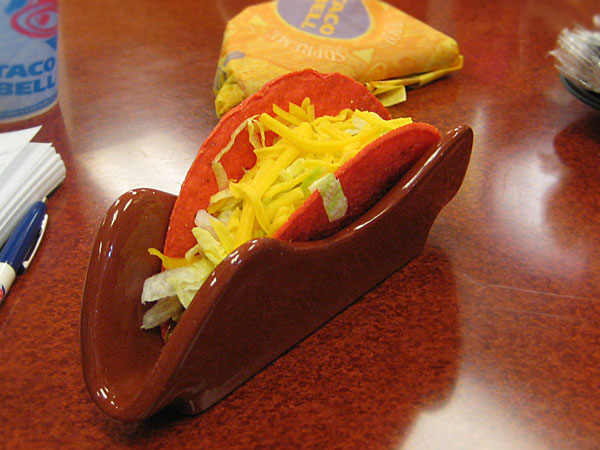 On the left, the "Z" is the amount of Lava Sauce that goes onto a Volcano Taco, or approximately one half-ounce. A second "Z" is added to demonstrate the one full ounce that is placed inside a Volcano Double Beef Burrito [right]:
The new Volcano Double Beef Burrito contains 3 oz. of seasoned beef, the aforementioned 1 oz. of Lava Sauce, crunchy red chip strips (similar to the red taco shell), shredded cheddar, Mexican rice, and sour cream. It, too, gets all of its fire from Lava. The 12″ flour tortilla is a bit larger than the 10 1/2″ tortillas used in many of the other burritos, allowing it to hold more heft (and also slightly justifies its higher price of $2.99).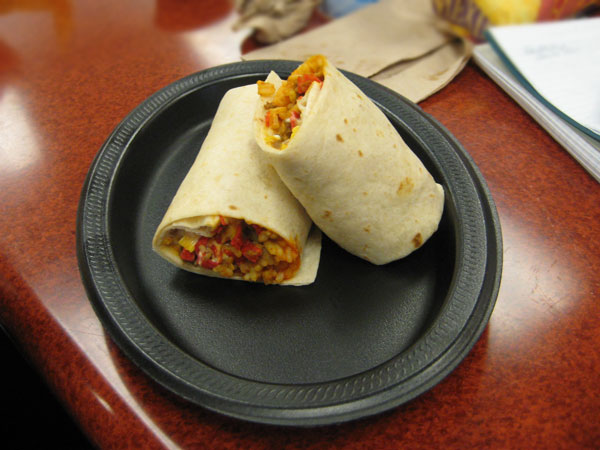 What's my take on it? It's good, but I think the sour cream takes off a bit too much of the distinctive edge of the Lava Sauce. The heat is just nowhere near as prevalent as it is on the Volcano Taco, even though its amount is increased. If I were to order the burrito at a TB location, I would ask for it without the sour cream.
I added a bit more Lava Sauce to the remainder of my burrito to get the heat back:
Taco Bell will introduce a third Volcano Menu item on August 3rd of this year, and exactly what that will be will not be yet revealed.
Creating My Own Taco Bell Item
We were given the awesome opportunity to concoct whatever custom food item we wanted in the Test Kitchen. When it was my turn at bat, I decided on putting together some nachos with something I've tried at home before: fried potatoes!
Here I am, grabbing the Lava Sauce:
That's it, Scott, don't be shy with the stuff!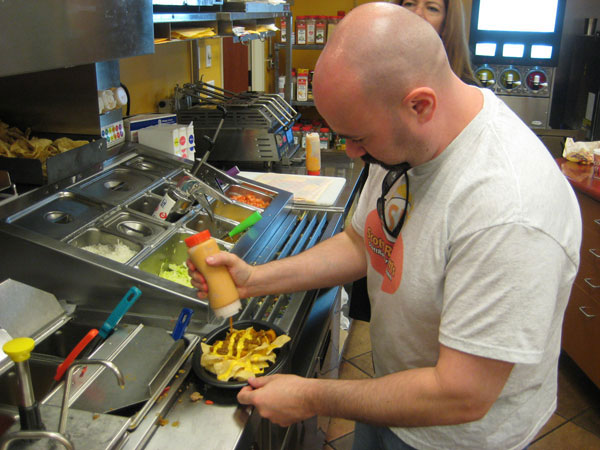 Here is a look at Scotty's Taco Bell Potchos – potato nachos with chips, tater tots, beef, nacho cheese, lava sauce, shredded cheese, and pico de gallo-style fiesta salsa. They're every bit as good as they look.
What was there to quench my thirst? A new Piña Colada Fruitista:
Here's the official Taco Bell "spice rack":
I want to thank Taco Bell for having us out to visit; every bit of the experience was pleasant and positive!