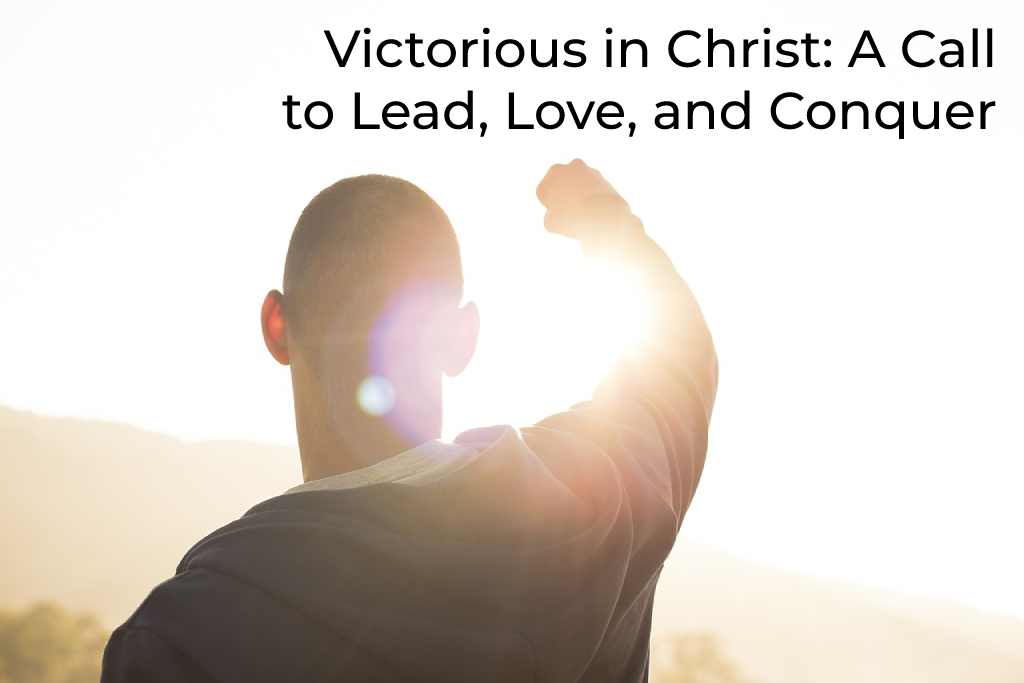 But thanks be to God, who gives us the victory through our Lord Jesus Christ."
– 1 Corinthians 15:57 [ESV]
As a man is called to lead, love, and conquer, we are not left to navigate life's challenges alone. Our source of strength, courage, and ultimate victory lies in Jesus Christ, who has granted us triumph through His death and resurrection. He is our Rock! With Christ as our immovable foundation, we can rise above every obstacle and become the leaders, husbands, and fathers God has called us to be.
In a world filled with distractions, temptations, and pressures, it is crucial to fix our gaze on the unfailing promises of our Savior. Through His victory, we are empowered to lead with integrity, guided by the wisdom of His Word. We are called to be servant-leaders, humbly putting the needs of others before our own and shepherding our families with love, grace, and selflessness.
How does this look, practically? As husbands, we are to cherish and honor our wives, just as Christ loves the Church (Ephesians 5:25). Let us strive to be examples of sacrificial love, nurturing an atmosphere of trust, respect, and mutual growth. Our strength should be channeled into building our families on a solid foundation of faith as we guide our children toward a deep and personal relationship with God (Deuteronomy 6:7, Proverbs 22:6, Ephesians 6:4). It's up to us to raise our children to honor Christ and the Bible.
To be the leaders, husbands, and fathers God intends us to be, we must first surrender ourselves entirely to Christ. We have to model for our families what it is to die of ourselves daily (Luke 9:23-25) and live in Christ. In His presence, we find the strength to overcome our weaknesses and the courage to face any challenge that comes our way. Through His power, we can conquer the struggles and temptations that seek to undermine our godly character.
Today, I encourage you, my fellow men, to embrace the victory that is ours in Christ. Seek His guidance daily through prayer and study of His Word. Allow the Holy Spirit to work within you, shaping your character and empowering you to lead with humility and compassion. Remember that victory in Christ is not a one-time event but a lifelong journey of growth, transformation, and reliance on Him.
May our lives be a testament to the power of Christ's victory, inspiring others to embrace His love and grace. Let us strive to be better leaders, husbands, and fathers, reflecting His character in all we do.
Call to Action:
Reflect: Take a moment to examine your life as a leader, husband, and father. Are there areas where you can improve? What steps can you take to align your actions with the example set by Christ?
Seek Guidance: Commit to spending regular time in prayer and studying God's Word. Ask the Holy Spirit to reveal areas of your life that need transformation and guidance in your roles as a leader, husband, and father.
Take Action: Identify one practical step you can take today to become a better leader, husband, or father. Write it down and hold yourself accountable. Trust in Christ's victory as you step forward, knowing that He will equip and empower you along the way.
Remember, in Christ, you are victorious! Let your life shine as a beacon of His love, leadership, and grace to all those around you.