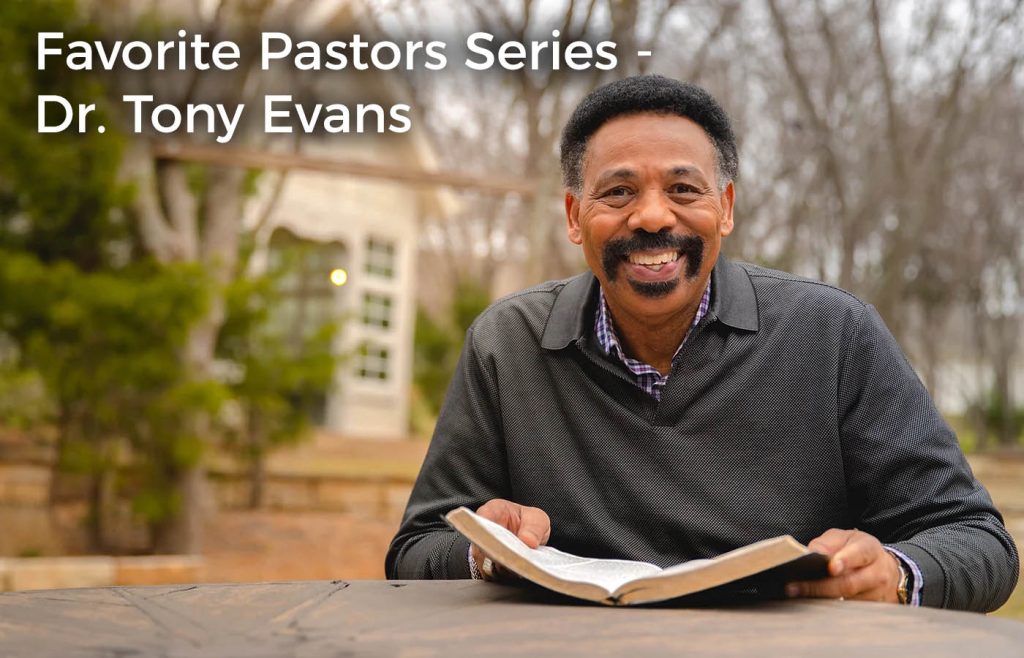 For a long time, Tony Evans has been on my radar as someone I genuinely appreciate for his fantastic teaching. Just in conversation, I may not always bring up Evans' name when discussion gravitates towards the best pulpit ministers around today. This may be partially due to him being more of a topical preacher as opposed to a book-by-book or chapter-by-chapter expositor. But upon closer analysis of great preachers of my lifetime, I realize that Evans is far better and gifted than I give him credit for, and he deserves a spot of honor on my list of Favorite Pastors of All Time.
Here is a little more about him…
Pastor Dr. Tony Evans is a highly respected and influential figure in the world of Christian ministry. Born on October 5th, 1949, in Baltimore, Maryland, he has dedicated his life to serving God and guiding others in their spiritual journeys. With a deep passion for Kingdom living and a commitment to men's ministry, he has made a significant impact through his teachings, writings, and leadership.
After completing his Bachelor of Arts degree at Carver Bible College and earning a Master of Theology degree from Dallas Theological Seminary, Pastor Evans embarked on a journey of ministerial leadership. In 1973, he founded Oak Cliff Bible Fellowship in Dallas, Texas, which has since grown into a thriving congregation under his visionary leadership, and through the grace of God, is still going strong.
Pastor Dr. Tony Evans is widely known for his emphasis on "Kingdom living," a concept rooted in the belief that Christians are called to submit every area of their lives to the Lordship of Jesus Christ. He teaches that the Kingdom of God encompasses all aspects of life, including personal relationships, family dynamics, work, and societal engagement. Through his dynamic preaching and teaching, Pastor Evans encourages believers to embrace the principles of Kingdom living and actively seek God's purposes in every area of their existence.
One of Pastor Evans' notable contributions to ministry is his focus on men's discipleship and ministry. Understanding the unique challenges and roles that men face in society and within the family unit, he has authored several books and resources specifically tailored to men. These include titles such as "Kingdom Man: Every Man's Destiny, Every Woman's Dream," "No More Excuses: Be the Man God Made You to Be," and "Raising Kingdom Kids" These works provide practical insights and biblical guidance to help men navigate their spiritual growth, family responsibilities, and personal development as a disciple of King Jesus Christ.
Beyond his local ministry, Pastor Evans has expanded his influence through various media platforms. He hosts "The Alternative with Dr. Tony Evans," a radio program broadcast on over 1,400 stations worldwide. Additionally, his sermons and teachings are widely available through books, DVDs, podcasts, and online resources, reaching a diverse audience and impacting lives globally.
Pastor Dr. Tony Evans' ministry has earned him numerous accolades and recognition throughout the years. He has served as chaplain for the NFL's Dallas Cowboys and has received honorary degrees from several institutions, including Dallas Baptist University and Liberty University.
He was married to Lois Evans, his devoted wife and partner in ministry, who sadly passed away in December 2019. Together, they raised four children: Chrystal, Priscilla, Anthony Jr., and Jonathan. Daughter Priscilla Shirer, an accomplished author, speaker, and Bible teacher, is one of the notable members of the Evans family. However, I personally disagree with her taking the role of sometimes leading and teaching men, which Scripture clearly forbids to do. Each member of the Evans family has played an integral role in supporting Dr. Tony Evans in his endeavors. The Evans family has journeyed together through joys and challenges, leaving a lasting legacy of faith, love, and commitment to God and His Kingdom.
Why Tony Evans?
Although I prefer expositional preaching, Tony's one of the best topical pastors out there. In a world where men of the pulpit often try to cram their pre-conceived (and sometimes slightly skewed) ideas into a few verses eisegetically and create a whole sermon series from them, Dr. Evans will take a whole-Bible, almost systematic approach to preaching. He'll very solidly show deep biblical underpinning to significant and weighty matters that truly draw people closer to God, lift up Christ, and promote holy, Christian living.
Instead of postulating a style of messaging that I call "Christian Lite," such as when some churches push feel-good topical messages like "God wants to be a part of your story," Evans and Oak Cliff Bible Fellowship deliver some hard-hitting series that stretches the believer in a variety of Scriptural ways. Topical series have included "The Character of Christ," "The Pursuit of Holiness," and "Understanding Spiritual Warfare." A series titled "Returning to the Truth" from last summer was an especially good one, in my opinion, reminding us of the rock-solid meaning of the word "truth" and inviting us to recognize God's absolute truth over any other claims of truth.
Evans' God-given gift for explaining theological concepts through easy-to-grasp analogies is unmatched in the church world. Evans often breaks things down in his sermon illustrations into metaphors, similies, and comparisons, and in doing so, only serves to reinforce teaching, increase biblical understanding, and promote life application in an easy-to-follow way.
And as I've already written about, Dr. Tony Evans often has his Gospel-centered preaching emphasize the Kingdom of God, especially as it pertains to the spiritual Kingdom here on earth, as well as the literal, physical Kingdom when Christ returns. Evans teaches a comprehensive understanding of God's Kingdom and its relevance to every aspect of a believer's life. He emphasizes that Kingdom living involves submitting every area of life to the Lordship of Jesus Christ. His "Kingdom Agenda" can be categorized into subjects such as Christ's authority, the believer's identity, our priorities and relationships, our impact on the secular world and our stewardship, and the ultimate hope and sovereignty of the Lord Jesus Christ.
Find Out More
Tony Evans' Official Website:
https://tonyevans.org/
Tony Evans Sermons
https://tonyevans.org/explore-all-media/