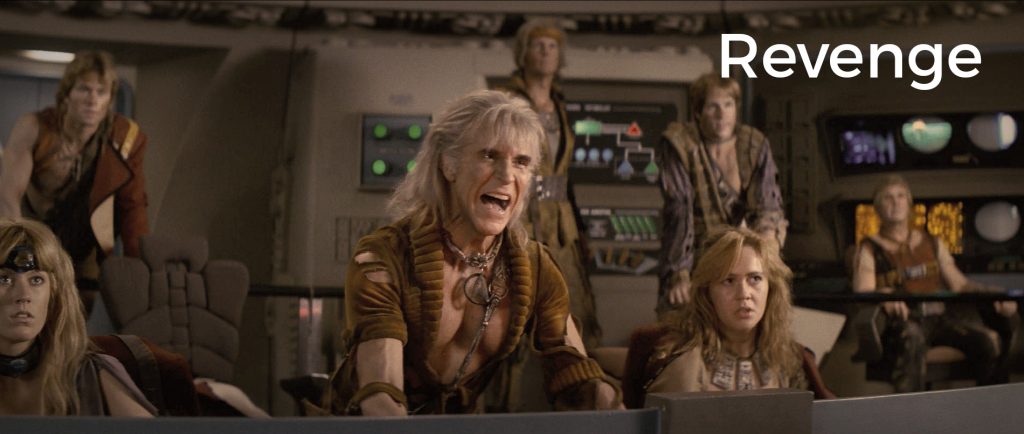 Ah, revenge. We've all known what it is like to be betrayed, hurt, lied to, and generally screwed over. And we have all experienced multiple times where we wanted to exact revenge against the perpetrator.
The feeling of getting bloody, satisfying payback for someone done wrong against someone else has provided the basis for some of our favorite stories, as it allows us to vicariously live out our fantasies of revenge through the protagonists' eyes. For instance, we feel the white-hot intensity in our hearts as movie characters are finally able to get back at the villains that have done injustice towards them. Russell Crowe's Maximus Decimus Meridius in Gladiator gets vengeance against Joaquin Phoenix's Commodus for his dead wife and son. The Bride AKA Beatrix Kiddo seeks retribution against Bill and the Deadly Viper Assassination Squad for the attack they committed against her in the Kill Bill films. Khan and his men seek revenge against Captain Kirk and the Enterprise crew for stranding them on Ceti Alpha V (yes, this is a case of the bad guy getting revenge, but his motivations are understandable and helps make Star Trek II: The Wrath of Khan be such a tense crowd-pleaser). And John Wick takes on most of the Russian mob in the NYC area because of his murdered puppy and stolen Ford Mustang Mach 1. The list can go on and on, but you can watch your preferred revenge tale and mentally fist pump when the hero finally wins. Revenge is a dish best served cold, as the Klingon proverb declares, and it feels so good to our flesh when payback is executed in the most brutal and frigid manner.
Again, as I have already stated, revenge can be so relatable, because it is something we've all wanted at some point in our lives. I get it. You've been really stung in the past. You've been betrayed. It could be an ex-significant other, a boss, co-worker, or business partner who has cheated on you, lied to or about you or done some other wrong. And with this post-morals, crazy, upside-down social media world that we live in, we are always being influenced to attack the other side or looking for karma for the opposing side, leaving revenge as a more and more attractive option.
God has called us to live differently than this. While the world encourages revenge, Jesus wants us to love our enemies and pray for those who do wrong against us. During the Sermon on the Mount in Matthew chapter 5, our Lord flips the old, outdated concepts of "an eye for an eye" on its head and commands us to take a new tact: to instantly forgive and not seek retribution. The apostle Peter echoes this instruction so succinctly: "Do not repay evil with evil or insult with insult. On the contrary, repay evil with blessing, because to this you were called so that you may inherit a blessing." – 1 Peter 3:9 [NIV]
Forgiving someone can be one of the toughest responsibilities we are tasked with in our walk with Christ. We can deal with things as small as someone cutting us off in traffic or as monumental as them negatively changing the course of our lives, but the call for unforgiveness remains the same.
When we do this, we truly live out the love and forgiveness that God has given us so abundantly in Jesus Christ. We get to display and share the radical love of Christ here on earth. Instead of raw and bitter payback, we show ourselves to be different than the rest of society by doing good against those who perform heinous acts against us.
The apostle Paul explains this concept so well in his letter to the Romans:
Do not repay anyone evil for evil. Be careful to do what is right in the eyes of everyone. If it is possible, as far as it depends on you, live at peace with everyone. Do not take revenge, my dear friends, but leave room for God's wrath, for it is written: 'It is mine to avenge; I will repay,' says the Lord. On the contrary: 'If your enemy is hungry, feed him; if he is thirsty, give him something to drink. In doing this, you will heap burning coals on his head.' Do not be overcome by evil, but overcome evil with good." – Romans 12:17-21 [NIV]
What an amazing visual Paul gave there with quoting Proverbs 25:21-22…heaping burning coals on their head! You will shame your enemy by not wreaking vengeance on him, and letting God handle the dispensing of justice.
So brothers and sisters, take that white-hot anger you have towards someone and bring it to the cross. Go to God in prayer right now, and cry out to Him and ask Him for help for forgiveness. Pray for Him to remove the pain caused by the offending person, and ask Him to turn those fleshly desires of revenge and turn them into loving requests to bless the other person. Give your whole heart to God our Father, and He will pour His love and healing into you, and spread it to everyone around you.