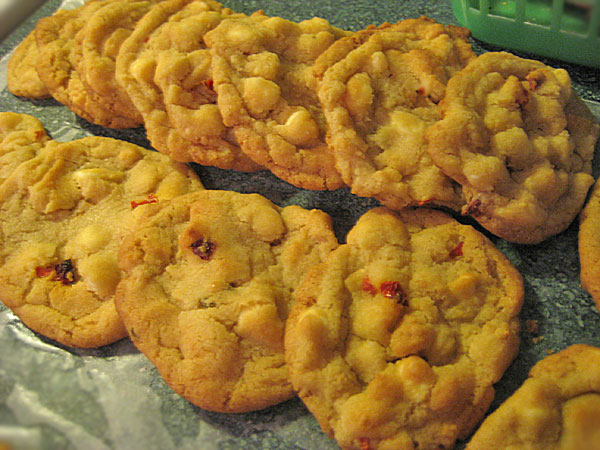 Habaneros lend themselves beautifully to a vast assortment of things sweet, and they're fantastic in these white chocolate chip cookies. I suppose you can make these with regular milk chocolate, semi-sweet or dark chocolate chips, but I opted for the smoother, more mild taste of white chocolate. With these chips, you get the full range of flavors without having anything be overpoweringly sweet.
Made the right way, these cookies work perfectly if you're hankerin' a sweet and spicy treat. Take one bite and you'll get the delicious taste of the dough and the white chocolate just melting in your mouth. The fruity flavor of the habanero peppers kick in around ten seconds in, and isn't until 15 to 20 seconds after first taking a bite does the heat fully blossom. It's a cool "two taste-stage" snack that goes great with a glass of milk or eggnog.
Ingredients
3/4 Cup Packed Brown Sugar
3/4 Cup Granulated Sugar
1 Cup Margarine or Butter, Softened
1 Egg
2 1/4 Cups All-Purpose Flour
1 Teaspoon Baking Soda
1/2 Teaspoon Salt
1/2 Package (6 ounces) White Chocolate Chips
4 – 6 Diced Habanero Chile Peppers (Fresh or Dried)
Directions
Preheat oven to 375°. Mix granulated sugar, brown sugar, margarine, and egg. Stir in flour, baking soda, and salt; once done, the dough will be stiff and somewhat granulated in its consistency. Stir in chocolate chips and habanero bits until well blended. Then Drop dough by rounded teaspoons about two inches apart onto an ungreased baking sheet. Bake for 8 to 10 minutes or until golden brown around edges. Cookie centers will be soft.
Cool for 10 minutes, and then carefully remove from the cookie sheet. Serve with cold milk and enjoy!