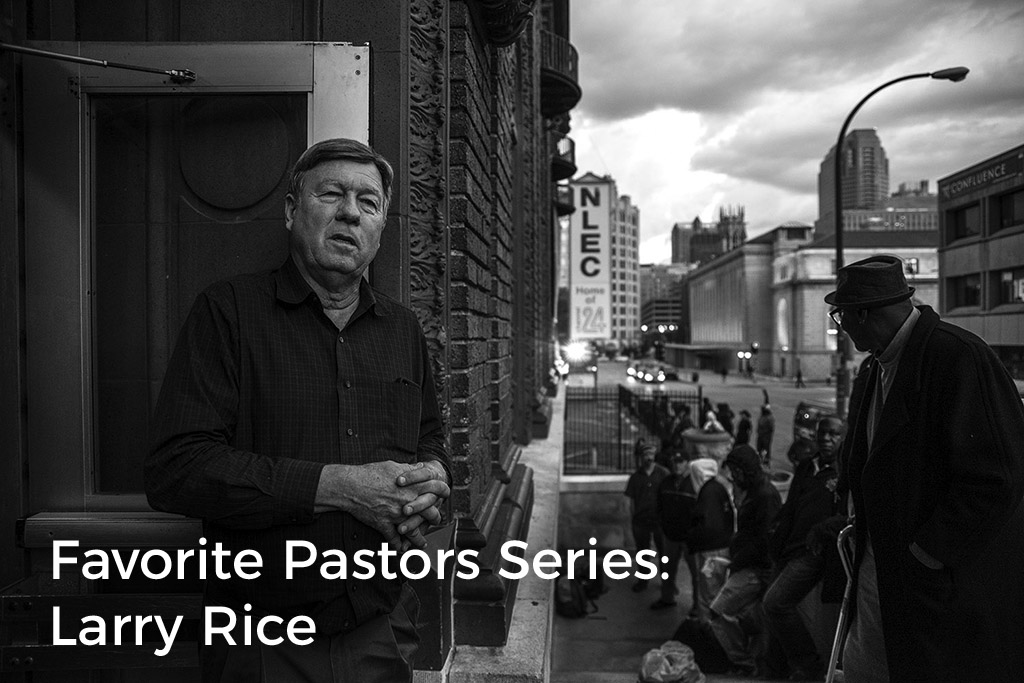 PHOTO BY NICK SCHNELLE
Next in my series of favorite and influential pastors might be a surprising one for many…Larry Rice.
The Reverend Larry Rice is a well-known figure in the city of St. Louis, Missouri, where he has put his faith into practice by spending over four decades advocating for the homeless and marginalized. As the founder and director of the New Life Evangelistic Center, a nonprofit organization dedicated to providing shelter, food, and other services to those in need, Rice has become an influential voice in the fight against poverty and social injustice.
Born in 1948 in Dallas, Texas, Rice grew up in a Christian household and became interested in ministry at a young age. He attended Baylor University in Waco, Texas, where he studied theology and earned a degree in religious education. After graduation, he worked as a youth pastor at several churches before moving to St. Louis in 1971.
In St. Louis, Rice continued his work in ministry, but his focus began to shift towards helping those in need. He started volunteering at the St. Patrick Center, a homeless shelter in downtown St. Louis, and was struck by the overwhelming need for services in the community. In 1972, he founded the New Life Evangelistic Center, which initially operated out of his own apartment.
The New Life Evangelistic Center started small, but quickly grew in size and scope. Rice and his team began providing meals, clothing, and shelter to the homeless, and also offered job training and counseling services. Over the years, the organization has expanded its reach, opening additional shelters and service centers throughout the city.
Rice's work with the New Life Evangelistic Center has not been without controversy. The organization has faced numerous legal challenges over the years, with critics arguing that the shelters and services provided by the center are inadequate or unsafe. In 2017, the city of St. Louis ordered the New Life Evangelistic Center to close, citing violations of building codes and zoning regulations. Rice fought the closure order in court, but ultimately lost the case and was forced to shut down the organization's main shelter.
Despite these challenges, Rice has remained committed to his work with the homeless and marginalized. He has continued to speak out on issues related to poverty, inequality, and social justice, and has worked to raise awareness of the challenges facing those in need in the St. Louis area. He has also been active in local politics, running for mayor of St. Louis on several occasions.
Rice's work has not gone unrecognized. He has received numerous awards and honors over the years, including the St. Louis Citizen of the Year award in 1994 and the Martin Luther King Jr. Human Dignity award in 2016. He has also been recognized for his advocacy on behalf of the homeless and marginalized, receiving the National Coalition for the Homeless's "Humanitarian of the Year" award in 2008.
Throughout his career, Rice has remained committed to his faith and his belief in the power of community service. He has worked tirelessly to provide support and assistance to those in need, and has inspired countless others to get involved in the fight against poverty and social injustice. While the New Life Evangelistic Center may no longer be operating, Rice's legacy lives on through the many lives he has touched and the countless individuals he has helped over the years.
In addition to his work with the New Life Evangelistic Center, Reverend Larry Rice also founded two TV stations in the St. Louis area: KNLC Channel 24 and KNLJ Channel 25.
KNLC, which stands for "Knowing New Life in Christ" Television, was founded in 1982 as a way to spread the message of the Gospel of Jesus Christ to a wider audience. Rice saw the potential of television as a tool for evangelism and began broadcasting sermons and religious programming on a local UHF station. The response was overwhelmingly positive, and Rice realized that there was a need for a dedicated Christian TV station in the St. Louis area.
Rice and his team worked to secure a broadcast license for a new station and began building a studio and production facilities in downtown St. Louis. The station went on the air in 1983, broadcasting a mix of locally-produced and nationally-syndicated Christian programming. KNLC quickly became a popular destination for viewers interested in Christian content, and the station expanded its reach to include satellite and cable distribution.
KNLJ, which stands for "Knowing New Life in Jesus" Television, was founded several years later, in 1989. Rice saw an opportunity to expand the reach of Christian programming even further by creating a second station focused on inspirational content. KNLJ, based in Jefferson City, Missouri, began broadcasting on UHF channel 25 and quickly gained a following in the central part of the state.
Like KNLC, KNLJ offered a mix of locally-produced and nationally-syndicated programming, with an emphasis on music, preaching, and inspirational content. Rice saw the stations as a way to reach people who might not otherwise attend church or have access to Christian resources.
While both stations were initially funded through donations and support from the New Life Evangelistic Center, they eventually became self-sustaining through advertising and other revenue streams. Today, KNLC and KNLJ continue to operate as independent, non-profit TV stations, providing a platform for Christian programming and community outreach in the St. Louis and central Missouri areas.
Why Larry Rice?
The inclusion of Larry Rice in my list of all-time favorite pastors may seem to be an odd choice, but there are a few reasons.
First, Rice's Christian teaching was instrumental in my initial growth as a young teenage believer after I got saved in June of 1987. While moving into a new house that summer, we were only able to get clear TV reception for KNLC Channel 24. This was before we were able to get cable or satellite TV. All of that Christian television exposure really introduced me to the Gospel, and Rice's televised preaching provided solid building blocks where both God's holiness and sovereignty along with God's immeasurable love, were emphasized. I am grateful to God for having this available to me at that early stage of my faith.
Second, he unabashedly puts his money where his mouth is and shows the love of Jesus by doing decades-long work at sheltering the homeless, feeding the hungry, and helping the less fortunate. Doing this, as it seems in a giant swath of politically conservative-influenced American Christianity, is often regarded as more of a "leftist" activity or philosophy. True biblical doctrine clearly shows that we, as disciples of Christ must show love and compassion to the poor, the sick, and those imprisoned (Matthew 25:34-40, James 2:15-17). Rice doesn't just preach good theology; he lives it.
He has left an indelible impression on me that we as the Body of Christ are not just to sit inside our cozy church buildings and discuss doctrine. We are to put our doctrine into action by exiting our church buildings and helping a hurting world out there.
Third, it was because Larry Rice was a "walk the walk" kind of preacher, that he was a "breath of fresh air" in a polluted evangelical environment. For those of you who don't remember that far back, the late 1980s was not a good time to be a TV preacher, with well-publicized scandals from the likes of Jim and Tammy Faye Bakker and Jimmy Swaggart giving Christians a black eye. Other televangelists were criticized heavily because of their rich and flamboyant lifestyles, with a lot of terrible and shallow "prosperity gospel" teachings used as an excuse to back up their wealth. Rice was the complete opposite. A selfless man who barely owned a couple of pairs of suits, he never sought affluence, riches, or notoriety through his platform of preaching, and he and his wife and children lived on meager wages.
So what about his politics? Was he a leftist, liberal, democrat, or social justice warrior masquerading as a minister of God? Unfortunately, in today's church culture, one needs to remain discerning of backgrounds and affiliations to ensure there is no wrong exposure to skewed doctrine, no matter who they listen to. Because of Rice's work in social reform and championing the less fortunate in today's society, some might accuse him of veering into leftist "social justice warrior" territory. This is a valid concern. Thankfully, in my research, I was relieved to discover that Reverend Rice has never gone into social justice warrior mode theologically, and takes a balanced, biblical stance in aiding the homeless. When running for office, Rice always ran as an Independent.
Reverend Larry Rice's Christian theology is rooted in the saving Gospel of Jesus Christ. Rice is a non-denominational minister who draws on a range of protestant theological traditions in his work and preaching.
In addition to sticking to his core non-denominational, protestant beliefs, Rice is also known for opposing certain aspects of mainstream Christianity. He is critical of what he sees as the commercialization and institutionalization of Christianity and has spoken out against prosperity theology and the "megachurch" model of ministry. He also opposes the death penalty and supports progressive social policies, such as universal healthcare and increased funding for education. Rice is vehemently against abortion.
As a non-denominational minister, Reverend Larry Rice does not explicitly and publicly identify as either a Reformed/Calvinist or an Arminian. Rice's theology also emphasizes the importance of saving faith in Jesus Christ and the transformative and regenerative power of the Holy Spirit. Rice encourages his followers to live out their faith in their daily lives, and one of the fruits of that is active compassion toward the hungry and the homeless.
Overall, while Reverend Larry Rice's theological views may share some similarities with both Calvinism and Arminianism, he does not identify with either tradition outright and instead draws from a range of theological traditions in his work and preaching.
Larry Rice Ministries:
https://larryriceministries.org/
New Life Evangelistic Center:
https://newlifeevangelisticcenter.org/