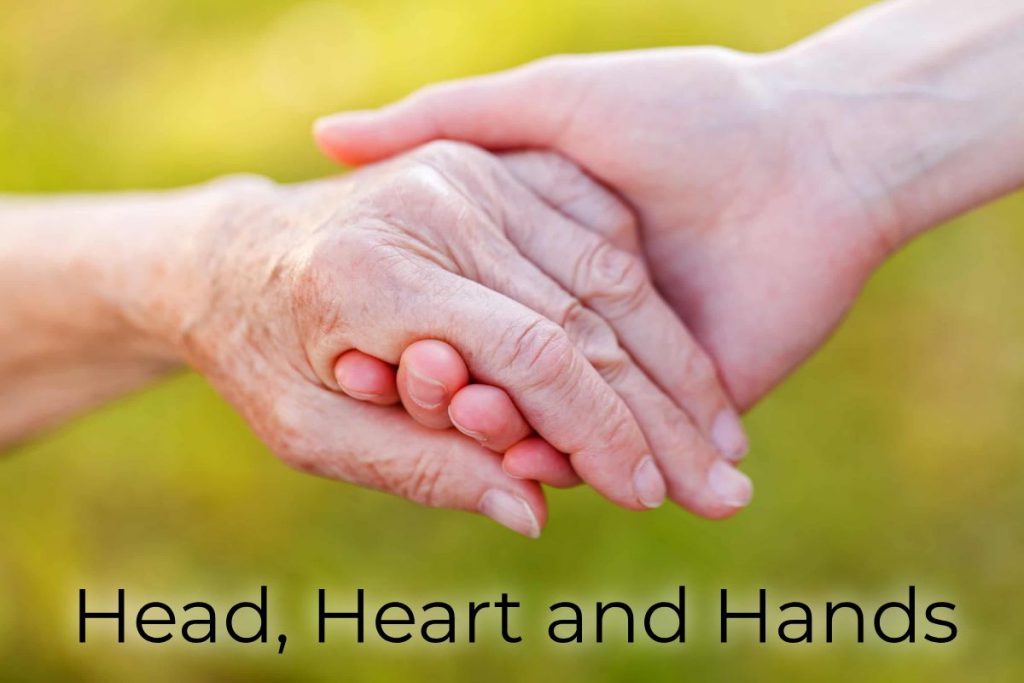 Head, Heart, and Hands
Theologian and pastor Erik Thoennes once succinctly summarized the three-prong approach to our spiritual growth by saying, "our theology (right thinking) should always lead to doxology (right worship) and orthopraxy (right practice), or else we have a major disconnect in our theology."
Our Christian lives are more than just us getting saved by the grace of God through the cross of Jesus. Yes, that is the Gospel, the very core of our faith which we celebrate and praise God every day. But a fulfilling life with Jesus as Savior and Lord is much more than merely attending church once a week and taking the place of your Uncle Lewis in giving the blessing at your holiday meals. It is a continual, daily process that shows improvement in every aspect of your life through Spirit-fostered sanctification every single day of your lives until we pass away.
Our faith should grow us in becoming more Christ-like in a coordinated three-prong "attack". First, we should make sure that we have the correct head knowledge of God and Jesus Christ through correct Biblical doctrine. Second, we must make sure our hearts are in the right place with truly changed lives that show worship towards God in all we do. Third, we must reach out to others in the real world showing real, Godly love.
Head
"All Scripture is God-breathed and is useful for teaching, rebuking, correcting and training in righteousness, so that the servant of God may be thoroughly equipped for every good work." – 2 Timothy 3:16-17
It all begins with knowing the ins and outs of Scripture. Guys, I can't stress how important it is to have a good, thorough knowledge of the Bible. Sometimes the enemy will twist and distort God's Word and inject just enough lies in it to ever so slightly veer us off course, ultimately leading us astray. Other times, very well-intentioned but misguided individuals have devised all sorts of silly teachings through taking Biblical passages out of context. Everything – including what people post in comments on social media, to an online video message from a preacher, to the memes some people share – can, unfortunately, become polluted by false doctrine, even if it's created by folks who love Jesus but don't bother to look and see if what they are promoting is doctrinally rock-solid and Biblical.
We need to guard against this similar to how the Bereans did in the Book of Acts. According to Acts 17:11, after this group of Greek Jews received the Gospel from the Apostle Paul, they "examined the Scriptures [what we now refer to as the Old Testament] every day to see if what Paul said was true." Just like the Bereans, we should test everything to see if it is so. The better we are in tune with the Bible, the better we'll be able to see danger flags rise when questionable teaching comes our way.
No, you don't have to become a theologian and you don't have to become a Hebrew or Greek scholar. But make it a point to get hungry for a daily diet of the Word of God and learn it inside and out. The more we know, the better equipped we will be able to be "rightly handling the word of truth" – 1 Timothy 2:25.
Heart
It's not enough to have just a "head knowledge" of Scripture. Heck, an unbeliever could study the Bible to become a seminary professor but never allow God's Word to change their heart. We need to make sure that our Bible reading is not a cold, technical exercise. We must love it, hunger for it, and revere it. We must let the Word wholly transform us as born-again believers in Christ and cut right down into the core of our very being: "For the Word of God is living and active, sharper than any two-edged sword, piercing to the division of soul and of spirit, of joints and of marrow, and discerning the thoughts and intentions of the heart." – Hebrews 4:12
The effect of the Bible working inside a completely surrendering, moldable heart can be described as nothing less than miraculous. The Holy Spirit uses the Word to conform believers into the image of Jesus Christ, continuing to build each of us as a new creation in Christ, who is humble, loving, gentle, patient, and submitting to the will of God the Father.
Not only that, but it prepares our thoughts and the intentions of our hearts for a lifestyle that honors and worships God in everything that we do.
Hands
With clear, Bible-soaked theological knowledge and a truly changed heart, we need to put our faith into real-world practice. We need to get out of our houses and step outside of our church doors. Yes, we must literally step out into the world, get our "hands dirty," and put our love and concern for other people into action and be a "doer of the word", as James puts it:
"But be doers of the word, and not hearers only, deceiving yourselves. For if anyone is a hearer of the word and not a doer, he is like a man who looks intently at his natural face in a mirror. For he looks at himself and goes away and at once forgets what he was like" – James 1:22-24. The Apostle John echoed this basic idea in 1 John 3:18: "Little children, let us not love in word or talk but in deed and in truth."
Jesus had given us a mandate to "love one another" (John 13:34) and there is no better way of doing that than by showing people we love them. We can feed them, shelter them, minister for them, visit them when they are sick, and take care of their needs in every way. People should be blown away so much by our actions that they can't help but see how vastly different Christians are from everyone else on earth.
So brothers and sisters, make sure you're growing in Christ in each of these three ways: head, heart, and hands. Failing to do so will expose a vast disconnect that will ultimately trip up your walk with God.