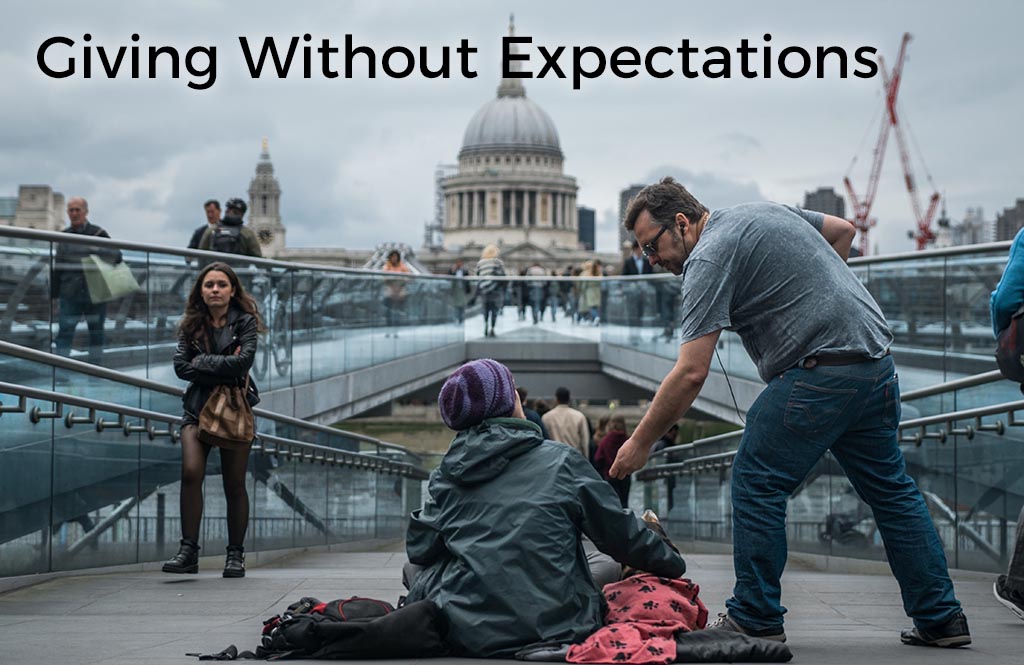 I was watching Gary Vaynerchuck (a well-known figure in the digital marketing space). I looked for videos on selling, and he said this "give without expectation." Vaynerchuck isn't exactly a Christian, but many of his philosophies lines-up with Scripture. He's highly successful despite his "put others first" mindset.
Watching his videos reminded me of 1 Timothy 6:6-10, where Paul talks about riches being found in contentment. Gary Vaynerchuck talks a lot about happiness being the end goal. God doesn't necessarily want us to live for our own happiness, but He does want us to find joy in serving Him and serving others.
"But godliness with contentment is great gain. For we brought nothing into the world, and we can take nothing out. If we have food and clothing, we will be content with these. But those who want to be rich fall into temptation, a trap, and many foolish and harmful desires, which plunge people into ruin and destruction. For the love of money is a root of all kinds of evil, and by craving it, some have wandered away from the faith and pierced themselves with many griefs."
– 1 Timothy 6:6-10 [CSB]
As an entrepreneur, I am called to serve. The word entrepreneur is generally tied with greedy, selfish, and narcissistic. Jesus was a perfect example of someone who served others despite him being the ruler of all life. Jesus never felt He was too important to wash someone else's feet, which at the time was considered a slave's work.
"When Jesus had washed their feet and put on his outer clothing, he reclined again and said to them, 'Do you know what I have done for you? You call me Teacher and Lord — and you are speaking rightly since that is what I am. So if I, your Lord and Teacher, have washed your feet, you also ought to wash one another's feet. For I have given you an example, that you also should do just as I have done for you. Truly I tell you, a servant is not greater than his master, and a messenger is not greater than the one who sent him.'"
– John 13:12-16 [CSB]
When you are in a higher position in life, it's tempting to get prideful and think you're above others, but truth be told, entrepreneurs are the biggest servants because our job is to constantly bring value to the marketplace. We will make money in the process, but money shouldn't be my primary motive as a Christian or entrepreneur; Christ should be my primary motivation to rise and grind every day. I should give without exception. Not saying making money is bad, but serving other people should be a reward in itself. To know you are giving without expectation is your attitude when you don't get rewarded for your service.
"Do nothing out of selfish ambition or conceit, but in humility consider others as more important than yourselves. Everyone should look not to his own interests, but rather to the interests of others."
– Philippians 2:3-4 [CSB]