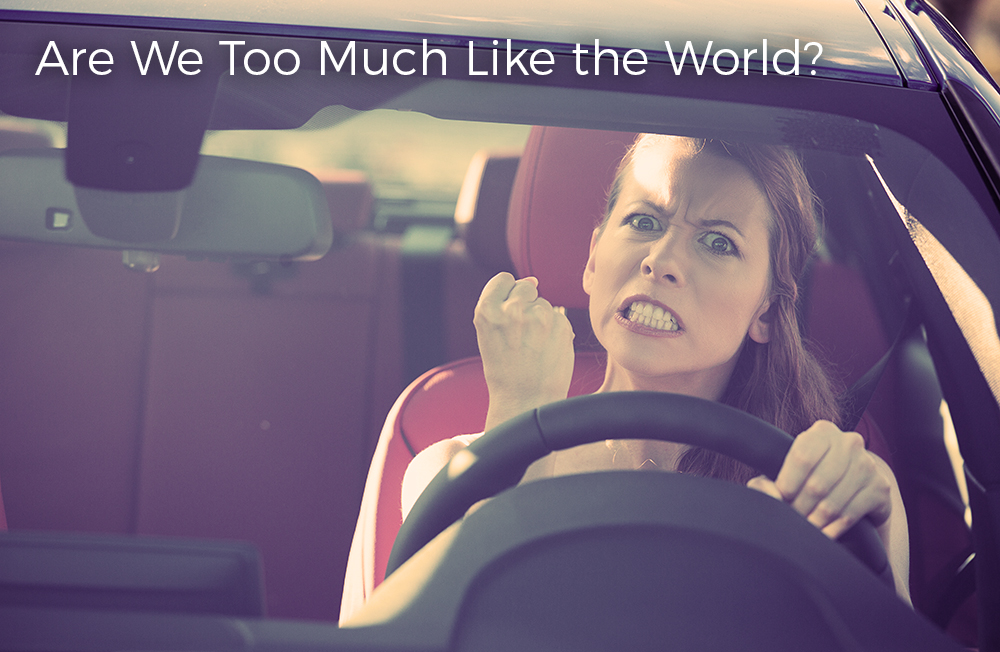 "Do not be conformed to this world, but be transformed by the renewal of your mind, that by testing you may discern what is the will of God, what is good and acceptable and perfect." – Romans 12:2
Although the practice of email forwarding is waning because of the proliferation of sharing on social media instead, I still get a decent number various messages, jokes, sayings and pics fulling up my inbox. Oh, I do have to quickly mention that the overall volume of these emails that I receive has gone down by approximately 37% since my mom lost her internet access four years ago.
Seriously though, the following is one such passed-around tale. Although this story obviously fictional, and a bit far-fetched, it's still a stunning lesson from which we as Christians can benefit. Just stick with it, and read it all the way through.
The light turned yellow, just in front of him. He did the right thing and stopped at the crosswalk, even though he could have beaten the red light by accelerating through the intersection. The tailgating woman behind him was furious and honked her horn, screaming endlessly in frustration, as she missed her chance to get through the intersection. As she was still in mid-rant, she heard a tap on her window and looked up into the face of a very serious police officer.

The officer ordered her to exit her car with her hands up. He took her to the police station where she was searched, fingerprinted, photographed and placed in a holding cell.

After a couple of hours, a policeman approached the cell and opened the door.

She was escorted back to the booking desk where the arresting officer was waiting with her personal effects. He said, "I'm very sorry for this mistake. You see, I pulled up behind your car while you were blowing your horn, giving the guy in front of you the finger and cursing at him."

"I noticed the 'What Would Jesus Do?' bumper sticker, the 'Choose Life' license plate holder, the 'NOTW' bumper sticker, and the chrome-plated Christian fish emblem on the trunk, so naturally I assumed you had stolen the car."
Whether or not this clever little parable was concocted by a Christian or a non-believer, there's a lot that we as Christ followers can take away from this.
There are many of us Christians, and I can include myself is this, who are acting like anyone else in the world. We should not do this, We are called to a higher standard. We should be the "Salt of the Earth" (Matthew 5:13) and the " light of the world" (Matthew 5:14) as Jesus had prescribed. People should see the love and character of Jesus Christ through us! C.S. Lewis said it beautifully, "Don't shine so that others can see you. Shine so that through you, others can see Him."
Concerning the specific example in the "Yellow Light" story – road rage – there are a multitude of warnings on the Bible warning us against falling prey to the negative affects of anger. James 1:19-20 states, "my dear brothers and sisters, take note of this: Everyone should be quick to listen, slow to speak and slow to become angry, because human anger does not produce the righteousness that God desires." In Colossians 3:8, the Apostle Paul implores us "now you must also rid yourselves of all such things as these: anger, rage, malice, slander, and filthy language from your lips."
Folks, watch what you're doing, watch how you react to things, watch what you're thinking, and know deep down why you do the things you so. This applies to everything in life – how we handle our relationships, what entertainment we watch and listen to, what we choose to read online, how we treat our children and spouses, what we post on Facebook, and how we spend our money.
We're called to be more than just lukewarm Christ followers going through the motions. Sure, we're sinners saved by grace through the blood of Jesus, but when was the last time you let God use that transforming grace to change you? How long has it been since you lived for Him?
If it's been a while, now is the best time to start again! In return, you'll get such a rich outpouring of blessings, with peace, joy and a sense of closeness to God that's indescribable.