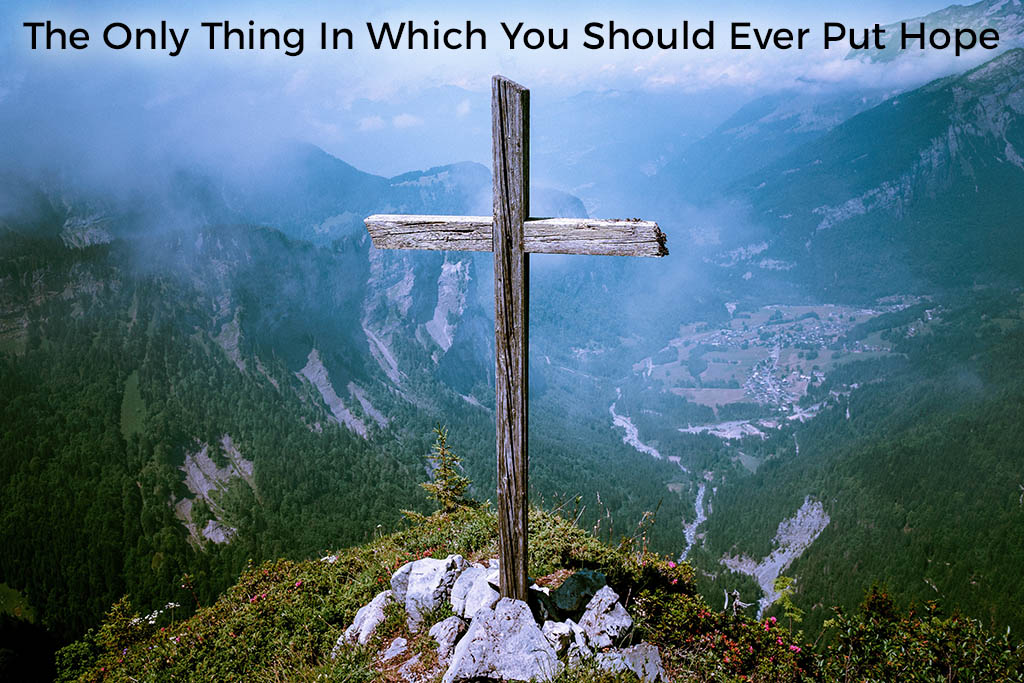 "May the God of hope fill you with all joy and peace in believing, so that by the power of the Holy Spirit you may abound in hope."
– Romans 15:13 [ESV]
Do we have any sports fans out there? If you are, I'm sure you know what's like when "your" team comes so close to taking it all but doesn't. There can be years where your team can almost be a real-life analog for some inspirational sports movie, you know, the scruffy band of misfits whom no one believes in all season long, who is constantly the underdog, seems to be able to pull off one miraculous win after another, and almost go all the way, and then… sadly get defeated in the end.
You put your trust and hope in them all year, but then that hope gets dashed to the rocks. It's like all of the proverbial air got let out of the balloon. We feel deflated and joyless. The thing we got our hopes up about let us down. Sometimes there's a palpable sense of depression around the office or at your school when your team loses. Everyone acts somber, with only a half-hearted, "well, there's always next year" response, with no real way of knowing if the sports team will even be able to perform at this level of excellence again.
In What Have You Put Your Hope?
There are all sorts of other things in which people put their hopes. People and things constantly let us down. Maybe it's a future dream or concept that you have that you hope will come true. You can think…
Will my business ever take off?
Will I get married one day?
Will I ever be able to have children one day?
Will I get accepted into university?
Will that loved one get healed?
Will I get a raise or promotion at work?
Will my kids or grandkids be successful?
Will I have enough for my retirement?
And while wishing and hoping for some of these things may be good, a lot of us can attest that not only do some of these goals and dreams not pan out the way we wish them to, nor fall into the precise timeline that we want, but life with its inevitable and unpredictable twists and turns may not see these things come into fruition at all.
Seeing these dreams not come into materialization the same way our favorite sports team not winning the big championship can leave us absolutely crushed and hopeless.
There may be more general things in life that we put our trust and hope in that can be taken away or changed at the drop of a hat. We can hope for a decent, "normal," first-class life. A job loss, a relationship ending badly, or a loved one receiving no-so-good medical news that can rock your world and threaten the so-called normalcy of life. The events of the past couple of years with the epidemic have certainly shown that we may not even be able to put our hope in the normalcy we once thought would always be there.
That verse I quoted at the beginning, Romans 15:13, reads "May the God of hope fill you with all joy and peace in believing, so that by the power of the Holy Spirit you may abound in hope." Isolated, that verse may sound vague or maybe just a general way of giving someone very general blessings from God, as in " may God bless you and keep you in peace." Well, to get the full context, we can jump back several lines to verse 8 all the way through verse 13, where it talks about JESUS being the ultimate hope for all. It describes how Jesus is not only the Hope and Redeemer for the Jews from whom He came but for all the Gentiles as well. Jesus is the only and ultimate and only hope for everyone on earth!
Therefore, we as believers and followers of Christ, are able to have hope that is totally and completely dependable. We don't base our hope on circumstances that can change, situations that are totally out of our control, or material things that can disappear tomorrow. Instead, we have a Savior who as Hebrews 13:8 proclaims, "is the same yesterday, today, and forever." The promises of the Lord Jesus Christ are always trustworthy, His Words are totally true, and He has and will have complete and total victory over everything in the universe. He is our Hope, our Master, our Advocate, our Deliverer, and the foundation of our very lives. Those who hope is genuinely in Him will never be put to shame, and will never be disappointed.
Life will be brutal, the world will be full of ups and downs and struggles, and we will encounter troubles. Jesus promised that (John 16:33). But through it all, we can have real peace and comfort knowing that He alone is worthy of having hope and trust in, not only for this life but for the life to come.
And if you haven't put your trust and hope in Jesus, I invite you to receive Him today. Maybe you're not sure if you are a follower of Jesus or if you're going to Heaven when you die. It's not based on how good of a person you are, but instead, you trust in the work and person of Jesus Christ for the forgiveness of sins for your salvation. Through His sacrifice on the Cross and His resurrection, and by personally trusting and having a relationship with the risen Jesus, you're able to receive the free gift of eternal life, and you can have this real hope.
Maybe you've had questions about Christianity, about the person of Jesus, or perhaps you're not quite sure where your beliefs lie. If you're wondering about any of that, contact me, and I'd be happy to discuss this with you further.
So, in conclusion, we as followers of Christ are children of God, saved by the grace of God through His Son, the Lord Jesus Christ. Rescued from eternal damnation and redeemed in His eyes. God has filled us with His very Spirit! We should be the happiest, most joyful people on the planet with impenetrable hope. So, trust in God completely, live for Him, and rejoice! Live out your joy!