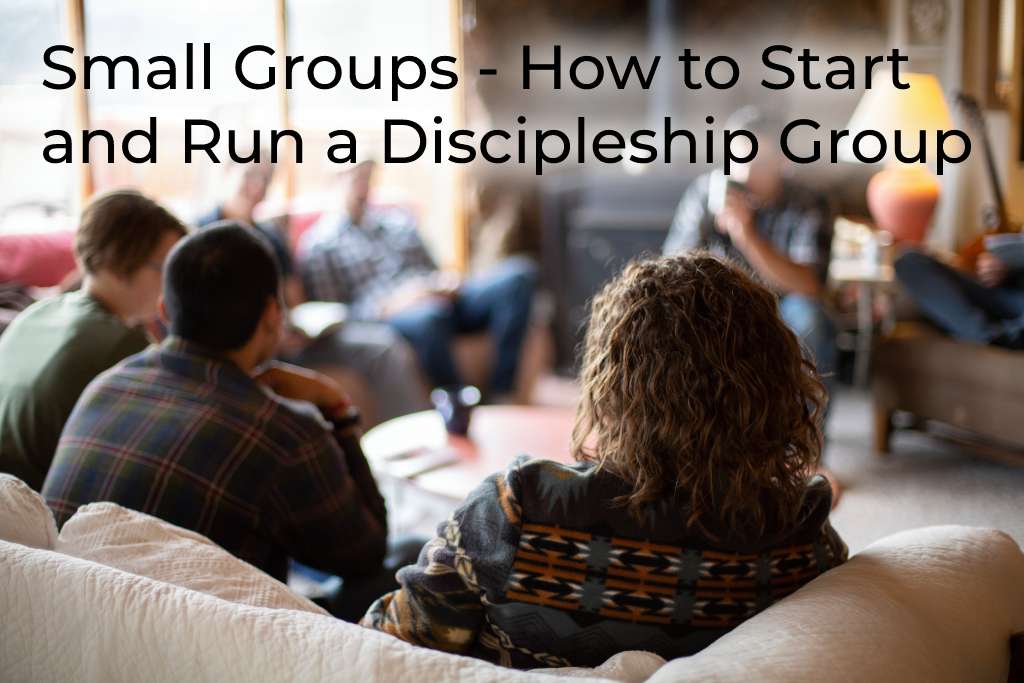 "Go therefore and make disciples of all nations…"
– Matthew 28:19a [ESV]
Jesus' call to make disciples wasn't merely to do a quick, one-time job of evangelizing and making converts. It was a full-fledged directive to build up lifelong followers of Himself, who love Him, listen for Him, and obey His every command.
One of the best ways for us as believers is to get together into smaller groups where we can learn and grow together by studying God's Word, encouraging one another, and praying for each other's personal needs. Sure, gathering as a large church congregation to worship and listen to a sermon is a fantastic necessity in a Christian's life, and I wholeheartedly press every single believer to do that on a weekly or bi-weekly basis. But sitting down as a smaller discipleship is where a lot of real instruction, application, and growth occurs!
Don't have one? Not sure where to begin? Then create your own small group. Starting a Christian discipleship group can be a rewarding and transformative experience for both the leader and the participants. Here are some steps to help you create your own Christian discipleship group:
Pray for guidance. Before starting a discipleship group, it's important to pray for God's guidance and wisdom. Ask God to lead you in selecting the right participants and to give you the strength and courage to lead the group.
Determine the purpose of the group. Consider what you hope to accomplish through the discipleship group. Do you want to study a specific book of the Bible? Going through a particular topical study? Focus on one specific aspect of the Christian faith? Do you have a gathering of only men or only women? The purpose of your group will inform your next steps.
Choose participants. Consider who you would like to invite to your discipleship group. Look for (and pray for) individuals who are serious about their faith, have a burning, Spirit-led desire to grow, and are willing to be accountable to one another. You may also consider inviting individuals who are at different stages of their spiritual journey, as this can lead to a rich diversity of perspectives and experiences. I've often found that more mature believers can give wise insight to newer Christians attending.
Set a schedule and location. Decide on a time and place that works for everyone in the group. Consider scheduling the group regularly, such as once a week, so that participants can develop a routine and make the group a priority in their lives. 60 minutes, 90 minutes, or two hours are suitable lengths to shoot for when planning time for everyone.
Plan the content. Decide on the content you want to cover during the discipleship group. This might include a study of a specific book of the Bible, a series of lessons on a particular theme, or a combination of both. Be sure to choose relevant, solidly biblical, engaging content that helps participants grow in their faith.
Set the structure. An all-around good agenda would be to have everyone arrive a little before the scheduled time so that you can get started right away. Spend a few minutes getting caught up on personal happenings, and ask for things to praise God for as well as items to pray for. Then, spend 10-15 minutes as a group in prayer, followed by the "meat" of the study time afterward (which may be 45-75 minutes, depending on your meeting structure). Conclude with a final prayer.
Encourage participation. Encourage participants to share their thoughts, experiences, and questions during the group. This will help create a supportive and interactive environment where individuals can learn from one another and grow in their faith together. An important note: please keep any and all personal matters brought up confidential within the group; make sure there is an environment of family and trust.
Stay focused on the goal. Stay focused on the purpose of the discipleship group and remain committed to helping participants grow in their walk with Christ. Encourage participants to hold one another accountable and to support one another in their spiritual journeys, admitting and confessing sin and always pointing each other to the Lord Jesus Christ as the solution.
Keep growing as a church family. Something to think about as you spend months and even years meeting with one another is that you should gather as brothers and sisters outside of the confines of a strict study. As you become more comfortable with each other, schedule dinners and BBQs, meet for coffee, and have a Christmas party. Think of it as "doing life together" in a natural, tangible way.
Divide and multiply. One of the best methods of creating more disciples is to follow a "multiplication" process or making disciples who make other disciples who make still more disciples. After your group has been together a while, it's time to start identifying who future potential small group leaders can be and have discussions about potentially splitting off into multiple groups in which newer disciples can join and learn. The point is to train as many people as possible to be followers of Jesus, and to constantly split and multiply is the best way of doing this.
Starting a Christian discipleship group can be a powerful way to grow in your faith and support others in their spiritual journeys. By following these steps, you can create a supportive and transformative environment where individuals can come together to deepen their understanding of God's word and build godly relationships with one another.