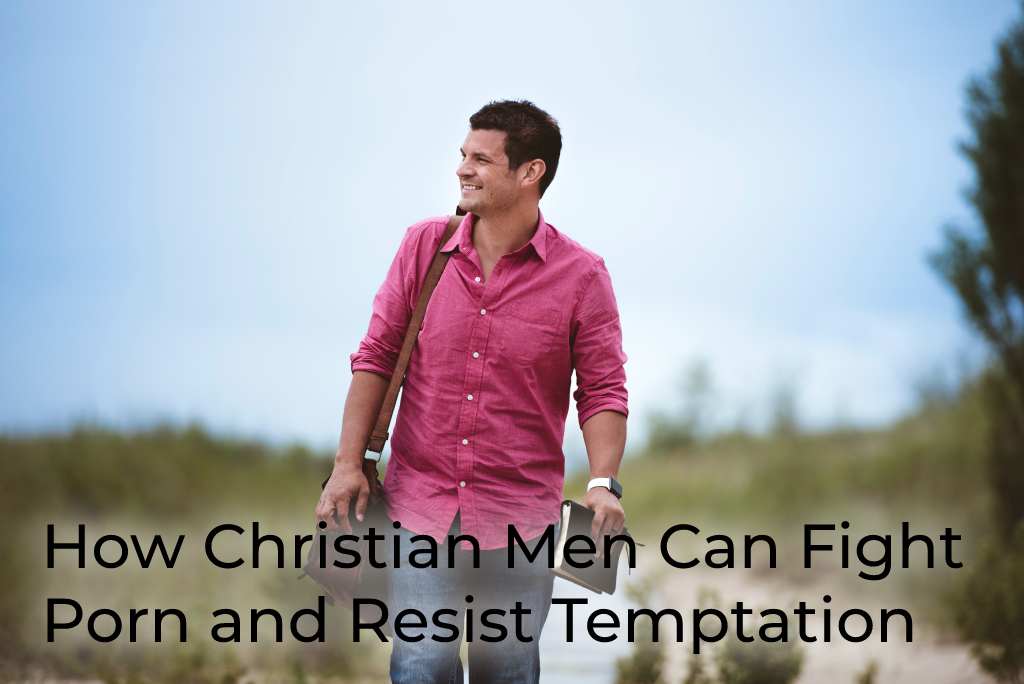 Pornography is a disastrous issue that affects men of all ages and backgrounds. It may or may not surprise you, but Christian men engage in viewing porn just as much as those who aren't believers. It can be incredibly difficult to resist the temptation to engage in porn. In fact, you who are reading this blog post right now may be in a nasty habit that seems impossible to kick!
Rest assured, you can, with God's power and grace, you can destroy lust's stranglehold on your life. Here are some practical steps that Christian men can take to fight porn, resist temptation, and live holier:
Recognize the Problem and Admit You Need to Do Something
The first step in fighting the stronghold of porn is to acknowledge that it is a problem.  Countless men struggle with porn in secret, and it can be easy to treat it lighter than it really is, justify the behavior, or deny that it is harmful. But the Bible is clear that sexual sin is destructive and, just like a host of other sinful actions, can lead to spiritual death (Romans 6:23). Don't treat it with kid gloves or regard it be lighter or less deadly than it is. As Christians, we are called to live holy lives and "flee from sexual immorality" (1 Corinthians 6:18)! Admitting that porn is a problem is the first step in finding freedom from it.
Confess, Repent, and Seek Accountability
Once you have recognized the problem, the next step is to confess and repent. Confess your sin to God and ask for forgiveness (1 John 1:9). Seek out an accountability partner or pastor to confess your struggles to and ask for their help in overcoming the addiction. Repentance involves turning away from the behavior and actively seeking to live a holy life.
Kill the Root Cause of Your Pornography Addiction
If you have a problem with cobwebs cluttering up your house, you just don't clean the cobwebs – you kill the spider(s) causing them! Prayerfully seek the root cause of your pornography and lust addiction, and then seek to destroy it. It may be caused by loneliness or depression, a feeling of unfulfillment in your marriage or relationship issues, a history of sexual abuse, or a host of other things. Identifying and dealing with these deeper issues can often lead to victory over sexual addiction in your life.
Cut Off Your Sources of Pornography
One way to deal a massive blow to your patterns of lust and porn is to chop off the source. Since these sins are just a few taps or clicks away on your smartphones and computers, put restrictions on these devices. Install porn tracking software like Covenant Eyes or Net Nanny, and have it send warnings to your wife, girlfriend, best buddy, or accountability partner if you veer off course and visit a site you shouldn't be looking at. Also, be transparent with your significant other, and let her have password-free access to every part of your phone at any time, no questions asked.
Guard Your Heart and Mind
Jesus said, "But I say to you that everyone who looks at a woman with lustful intent has already committed adultery with her in his heart" (Matthew 5:28). To resist the temptation of porn, it is vital to guard your heart and mind. This means being mindful of what you watch, read, and listen to. Avoid media that is sexually explicit or promotes sexual immorality. The heart (your mind, will, and emotions) needs to be surrendered to Christ and must be guarded at all times. "Above all else, guard your heart, for everything you do flows from it." – Proverbs 4:23 [NIV]
Fill Your Heart and Mind With Scripture
One of the best weapons against sin of any kind is the powerful sword of God's Word. Remember Psalm 119:11: "I have hidden your word in my heart that I might not sin against you." [NIV] Read, scour and meditate on Bible passages. Memorize them and let God's Word dominate your thinking. And love the Word, live the Word, and obey the Word. When Jesus faced the devil in the wilderness, what did He counter the enemy with to resist temptation? Yep, He quoted Scripture.
Renew Your Mind
Romans 12:2 commands, "Do not be conformed to this world, but be transformed by the renewal of your mind, that by testing you may discern what is the will of God, what is good and acceptable and perfect." Renewing your mind involves replacing sinful thoughts and behaviors with righteous ones. This can be done through prayer, Bible study, and seeking out positive influences.
Focus on Fellowship and Relationships
Pornography can be a lonely addiction that isolates men from meaningful relationships. Focusing on building healthy relationships with family, friends, and the church can help to combat the temptation of porn. God created us to be in community, and being part of a supportive community can help us to stay accountable and find encouragement in our struggles.
Seek Help
Breaking free from porn addiction can be incredibly difficult, and it is essential to seek out professional help if needed. Christian counseling or support groups can provide a safe and supportive environment to work through addiction and find freedom.
Fighting porn addiction requires a multifaceted approach that involves recognizing the problem, confessing and repenting, killing the root cause, guarding the heart and mind, renewing the mind, focusing on relationships, and seeking help when needed. The Bible provides us with the tools we need to resist temptation and live holy lives. Always remember that if you are saved and are truly in Christ, you can be victorious! Romans 6:12-14 [NKJV] proclaims:
"Therefore do not let sin reign in your mortal body, that you should obey it in its lusts. And do not present your members as instruments of unrighteousness to sin, but present yourselves to God as being alive from the dead, and your members as instruments of righteousness to God. For sin shall not have dominion over you, for you are not under law but under grace."