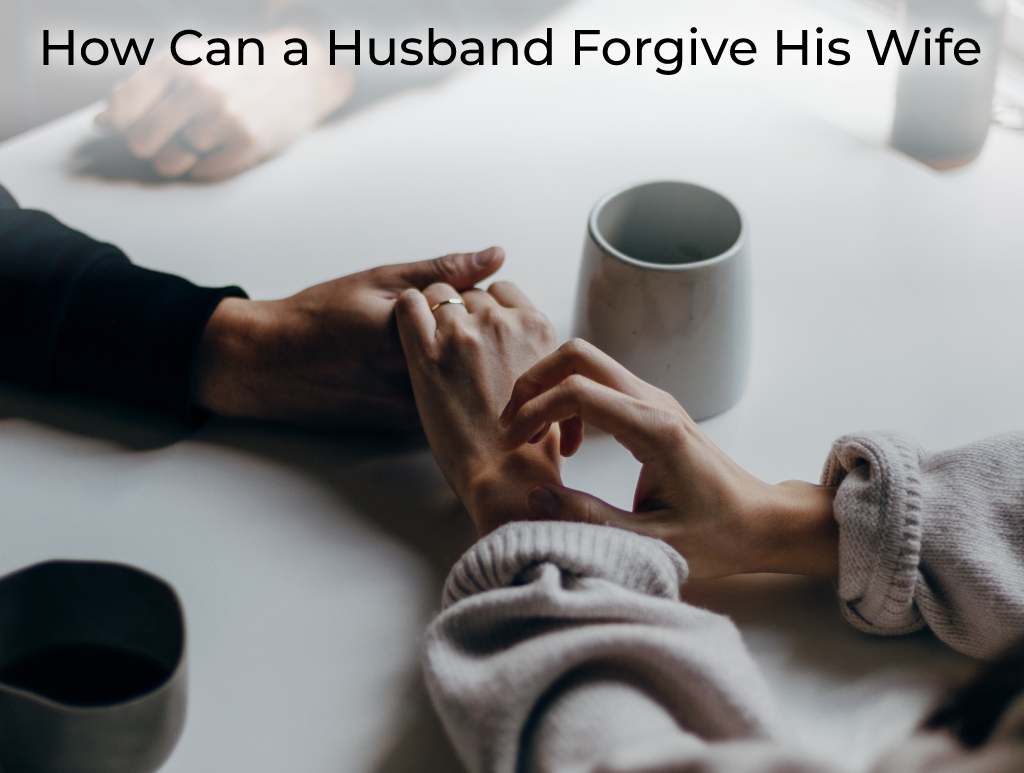 Marriage is a sacred bond that God designed to be a lifetime commitment between a man and a woman. However, marriages are not perfect, and couples will inevitably face challenges and conflicts. When these challenges arise, forgiveness becomes an essential ingredient for a healthy and thriving marriage relationship. Forgiveness is the foundation of reconciliation and restoration. In this blog post, we'll discuss how a husband can forgive his wife from a biblical, Christian perspective.
First and foremost, it is essential to understand what forgiveness means. Forgiveness is the act of releasing someone from the debt they owe you. When someone wrongs us, they create a debt that they owe us, whether it be an apology, restitution, or some other form of reparation. Forgiveness is the act of canceling that debt, choosing not to hold the offense against the person who wronged us any longer.
Next, it is essential to understand that forgiveness is not a one-time event but rather a process that takes time and effort. Forgiveness requires a change of heart, a willingness to let go of resentment and bitterness, and a desire to restore the relationship. As Christians, we are called to forgive others just as God has forgiven us. Colossians 3:13, it states, "Bear with each other and forgive one another if any of you has a grievance against someone. Forgive as the Lord forgave you." God's forgiveness of us is the ultimate example of how we are to forgive others. If we struggle to forgive our spouses, we must remember how much Christ has forgiven us (which is a lot!) and allow that to motivate us to extend forgiveness to others.
On this same note, Jesus teaches us in Matthew 7:1-5 that we should not judge others unfairly or as a hypocrite, as we have our own sin to deal with first. When we realize how much we have been forgiven, it becomes easier to forgive others. In fact, Jesus goes as far as to say that if we do not forgive others, we will not be forgiven (Matthew 6:14-15)! This is a sobering reminder of how important forgiveness is in the Christian life.
To forgive his wife, a husband must first acknowledge any hurt or pain that he has experienced. He must be honest with himself and his wife about how her actions have affected him. He should express his feelings in a calm and respectful manner without attacking or blaming his wife. In Ephesians 4:26, it says, "In your anger, do not sin: Do not let the sun go down while you are still angry." This verse reminds us that it is okay sometimes to feel angry, but we should not let that anger stew and fester and go unchecked for any extended length of time. While I wouldn't always suggest that you try to hash things out immediately (often, a cool-down period is advisable), don't let the resentment keep building up until it reaches a boiling point.
Let go of this bitterness. Believe me, I know it's tough. But bitterness can be a common obstacle to forgiveness. Can can "forgive" someone, but Hebrews 12:15 commands, "See to it that no one falls short of the grace of God and that no bitter root grows up to cause trouble and defile many." This verse reminds us that bitterness can cause harm not only to ourselves but to others as well. Seek the wise counsel of Christian friends if you need help. And, perhaps most importantly, pray! Implore your Heavenly Father to remove the pain and resentment and help you to forgive. It is important to release the bitterness and choose forgiveness instead.
Remember that you and your wife are one flesh. Genesis 2:24 proclaims, "Therefore a man shall leave his father and his mother and hold fast to his wife, and they shall become one flesh." When you get married, God creates a spiritual connection so deep and intimate that it is essentially one man and one woman becoming one flesh. Think about that. When you sin against, argue with, or hold grudges against your married partner, you are, in a sense doing all of that against yourself! Your wife is not your enemy, but one with you spiritually, and having that perspective daily will help you when you struggle with unforgiveness.
Pray for your wife. No matter what kind of attitude is reciprocated by your wife, choose to pray for her daily and constantly. Ask God to take care of her, bless her, and make her grow as a woman and for the two of you to be reconciled. If we are to pray for our enemies, as Jesus prescribed in Matthew 5:44, shouldn't you do at least as much for your beloved wife?
Keep forgiving your wife. If it's a repeated sin and she's honestly trying to do better, never stop showing her grace. One of the most well-known passages on the topic of repeated grace and mercy is found in Matthew 18:21-22. In this passage, Peter asks Jesus how many times he should forgive someone who sins against him, suggesting seven times as a limit. Jesus responds by saying, "I do not say to you, up to seven times, but up to seventy times seven." – Matthew 18:22  [NASB] Jesus' point is clear: we are to forgive without limit.
Finally, forgiveness is ultimately a choice to love. 1 Corinthians 13:4-5 says, "Love is patient, love is kind. It does not envy, it does not boast, it is not proud. It does not dishonor others, it is not self-seeking, it is not easily angered, it keeps no record of wrongs." Choosing to forgive your wife is a choice to love her despite her flaws and mistakes. It is important to remember that we have all fallen short of God's perfect standard (Romans 3:23) and that we are called to extend the same grace and forgiveness to others that God has extended to us.