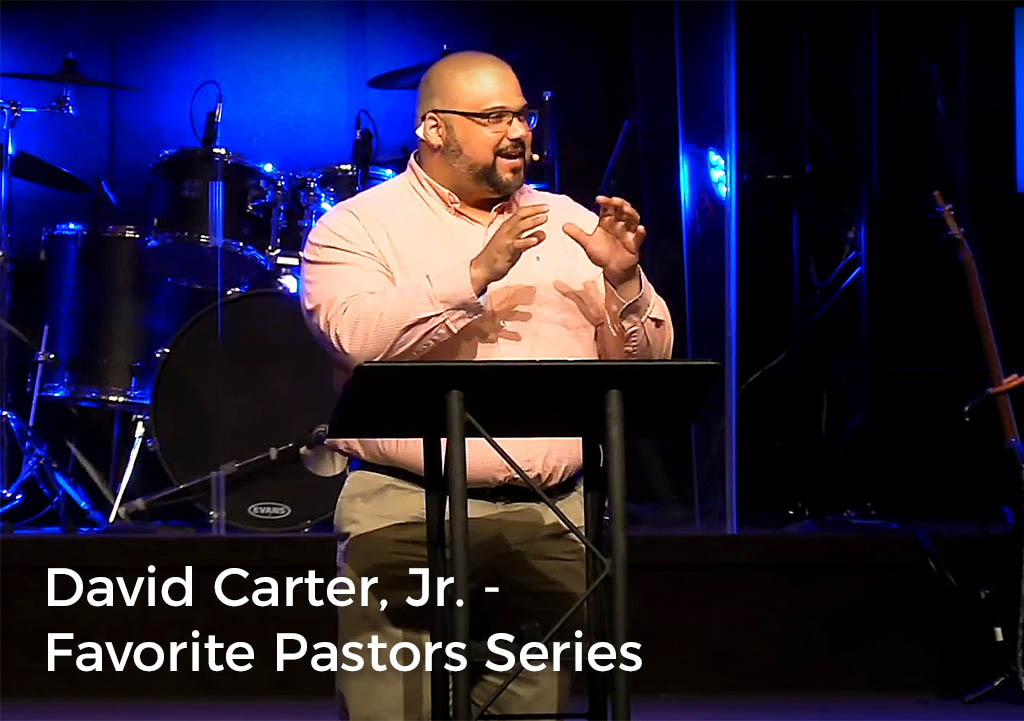 I would be remiss if I failed to include Pastor David Carter, Jr among the ranks of my favorite preachers of all time. This entry is very personal to me. Dave is my friend, my former pastor, and my former fellow Elder at Bayfair Baptist Church, and someone whom I've fought alongside with in the trenches of spiritual warfare. God has used him in bountiful ways to grow me and my wife spiritually.
Dave is someone who God has placed in my life instrumentally to guide, advise, and mentor and to be there as a brother in Christ. I know first hand he's got a huge heart for Christ and for the flock under his care. God has placed him in the lives of many others, and to say that it has been merely "fruitful" is an understatement. Dave is a genuine blessing from God.
About David Carter, Jr.
Pastor David Jeffrey Carter, Jr. is a dedicated servant of God who has demonstrated his passion for ministry throughout his career. Originally from the Windsor, Ontario area, Pastor David held jobs in the service and retail industries before being called full-time into ministry. Pastor David served as a Pastor at Essex Baptist Church for three years, gaining valuable experience and a burgeoning commitment to pastoral ministry.
I first met him at Bayfair Baptist Church in Pickering, Ontario, where he served as Lead Pastor from August 2017 to April 2023. Here Pastor David made a lasting impact on the Durham Region congregation and, through the leading and grace of God, grew the church in many different ways to make us more Scripture-exalting, Gospel-focused, and discipleship-oriented.
In May 2023, he transitioned to the role of Senior Pastor at Bramalea Baptist Church in Brampton, Ontario, continuing his dedication to building up being faithful to the Lord by helping to feed a large, multi-ethnic church with the precious spiritual meat of the Word of God and equipping others to spread the Gospel.
Pastor David's primary focus is teaching the Bible in an exegetical manner, firmly believing in the transformative power of God's Word through expository preaching. He strives to help people develop a personal and passionate relationship with Christ, encouraging them to worship Him wholeheartedly.
Having completed his Master of Divinity degree this past Spring from Heritage College and Seminary, Pastor David possesses a solid educational foundation for his ministry. His extensive theological training equips him to provide sound biblical teaching and guidance to his congregation.
Alongside his dedication to ministry, Pastor David cherishes his family life. He is happily married to his wife, Ally, and together they have been blessed with four children. In his leisure time, he enjoys various activities, such as spending time weightlifting at the gym, reading, and watching sports. He proudly supports teams like the Toronto Raptors, Toronto Blue Jays, and the Pittsburgh Steelers.
With his wealth of theological knowledge, heartfelt preaching, and dedication to his calling, Pastor David Carter continues to impact the lives of believers and share the love of Christ with those he encounters in his role as a senior pastor.
Why David Carter?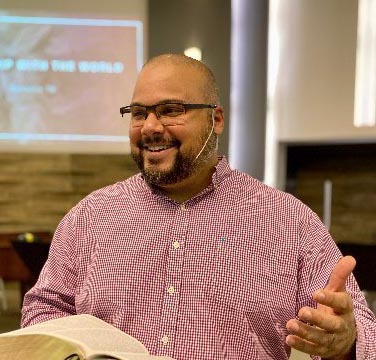 Pastor Dave is one of the most capable expositors of the Bible I've heard. For those of you who aren't familiar with it, expository preaching is the reading and explaining of a larger passage, chapter, or section of the Bible. Instead of a pastor coming up with a topic he's got an opinion on and attempting to twist a Bible verse to back it up, an expository preacher will take the opposite approach and pour through a whole passage and let the context of Scripture determine the doctrine. This uses what is called exegesis, where the meaning is drawn out of the text. In contrast, the opposite outcome in many topical sermons is eisegesis, which is putting your own ideas and opinions into the text.
Pastor David's faithfulness in using this method makes his preaching and teaching more reliable, dependable, and closer to the intended meaning of God's Word. Like many devoted expository preachers, Pastor David will cover entire books of the Bible, going through them verse by verse, paragraph by paragraph, and chapter by chapter until the clear biblical mandates contained therein are evident.
On top of that, it's not just enough to go through books of the Bible unless you can explain things clearly and in a relatable manner. Pastor Dave excels at this. He arrives at a sermon in a down-to-earth style with simple points from which the listener can draw. While the meaning of the biblical text can be challenging and convicting to the listener, he or she can understand it better to apply it to their life.
Pastor David comes to not only the pulpit but to every role he plays as a shepherd of a flock with genuine humility. That characteristic can surprisingly be often hard to come by with a lot of pastors nowadays, especially those in the "big eva/non-denom" umbrella of hip, likable, comical, self-confident speakers who proudly love to fire off jokes every 90 seconds to keep the audience liking them, and may sprinkle in a Bible verse or two to make it sound "Christian."
David Carter, on the other hand, knows that God has given him a duty to perform to carefully articulate the very written Words of God. He doesn't take this job lightly, as no God-fearing preacher should do. It's a high calling and a supreme honor from God to be a preacher of His Holy Word, and Dave fully realizes it.
Pulpits across America and Canada could do with many more men like David Carter. I truly believe he is a good example of a dedicated man of God who sees the necessity to feed his flock and make sure they are appropriately discipled.
Find Out More
Sermons at Bramalea Baptist Church:
https://www.bramalea.org/podcasts/media/series
Sermons at Bayfair Baptist Church (selected):
https://www.bayfairbaptist.ca/sermons