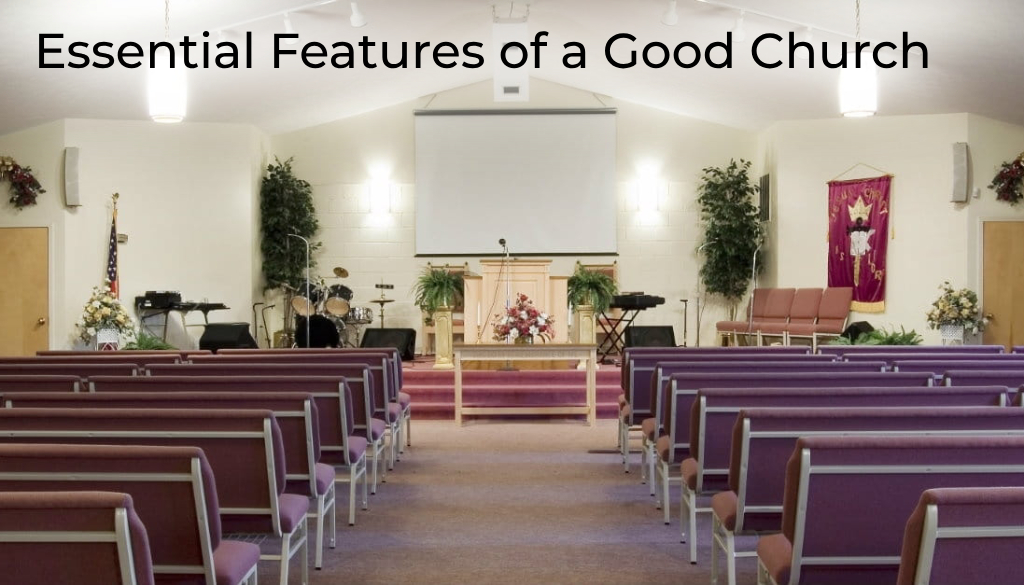 Looking for a legitimately good church? Or if you already have a home church, are you curious to see how it stacks up as a local body of worship?
Whatever the case, it's important to know and identify what a solid church is like, as a vibrant, growing, evangelical, Bible-believing church serves as a hub for the spiritual development of its members, and a beacon of the Gospel for the broader community.
But what specifically defines a good, evangelical, Bible-believing church? If you think that it's a hip, modern church with fantastic amenities like a coffee bar, a multi-million sound and video system, Sunday messages that are slick and inspirational without being too pushy, or maybe a bevy of fun kids' activities, then think again. A godly church doesn't need any of these things. In many cases, they can be highly distracting from what we really need from a local church building and fellow body of believers.
Instead, I elaborate in this article on what are the defining features of a great, evangelical, Bible-believing church.
Expositional, Bible-Centered Teaching and Preaching
Central to such a church is a steadfast commitment to expositional preaching and Bible-centered teaching. In this method, full biblical passages are examined in-depth, offering comprehensive insights into the text. The congregation is guided to understand each verse's historical, cultural, and theological context, followed by practical applications in modern life. This fosters a robust understanding of Scripture and cultivates an environment where God's Word is revered and applied in daily living.
An Adherence to Biblical Theology
Adherence to biblical theology is another must-have trait of a good, evangelical church. It means that the church's belief system – AKA their statement of faith – aligns with the teachings of the Bible. From core doctrines like the Trinity and the virgin birth to principles on living a godly life, the church faithfully communicates the divine truths encapsulated in Scripture. And a good church will not compromise its ardent biblical stance just because of outward changes in societal norms or political correctness (see my article on Warning Signs of a "Woke" or Progressive Christian Church for some examples of how churches can go off the rails). This steadfast commitment to biblical theology acts as the theological compass guiding the congregation's faith journey.
A True Fear and Reverence of God
A sincere fear of and reverence for the Holy, Holy, Holy King of Kings and Lord of Lords of the Universe, the LORD God Almighty, must permeate all aspects of the local church. From the preaching pulpit and what is done on stage to the programs they offer to the way they conduct themselves on social media, are they honoring a mighty God or mocking Him?
This "fear" doesn't imply fear in a negative sense, but rather an awe-inspired trembling and respect for God's holiness and sovereignty. It acknowledges God's supreme authority and engenders a desire to obey His commandments. This reverence finds expression in humble worship, ethical living, and an earnest pursuit of holiness.
A Focus on the Gospel Message
The Gospel message, proclaiming the life, death, and resurrection of Jesus Christ for humanity's redemption, is the cornerstone of a good evangelical church. The Gospel's liberating message of grace echoes from the pulpit, in Bible studies, and through the church's outreach efforts. This unrelenting focus keeps the saving work of Christ central in the church's ministry and encourages a grace-filled atmosphere.
Regeneration and Conversion
Emphasizing the need for regeneration and conversion, such a church communicates the profound transformation brought about by the Holy Spirit. Recognizing that faith is more than intellectual assent, the church stresses the necessity of personal repentance, faith in Christ and His atoning work on the Cross and Resurrection, and personal spiritual rebirth done by the Holy Spirit. Through this, it highlights the transformative power of the Gospel to usher in not just an "improved life," but a whole new life in Christ.
A Focus on Prayer and the Prayerful Life
Prayer plays a crucial role in an evangelical, Bible-believing church. It's seen as an essential avenue of communion with God and a powerful instrument of spiritual growth. Regular prayer meetings, intercessory prayer groups, and teachings on prayer help cultivate a prayerful ethos. It encourages the congregation to seek God's wisdom, express thankfulness, confess sins, and intercede for others.
Evangelism
Evangelism is viewed as an indispensable part of the church's mission. The church equips its members to articulate their faith effectively and provides opportunities for evangelistic outreach. By sharing the Gospel with those who haven't heard it, the church takes seriously its call to make disciples of all nations by sharing the saving message of Jesus Christ
Outreach and Support of Missions
A good church is deeply invested in mission work, both locally and globally. It supports missionaries and mission organizations financially and prayerfully, often sponsoring mission trips and engaging in local community service. This commitment to missions is born out of obedience to Christ's command to make disciples of all nations.
Discipleship
Discipleship is a crucial priority in any good, evangelical, Bible-believing church. By this, we are training believers to be actual followers of Jesus Christ by teaching them to live out what He has commanded us. Various discipleship initiatives like encouraging and equipping Christians to have one-on-one interactions with one another in order to grow spiritually should be the heart of discipleship. Through small group Bible studies, mentoring programs, and Christian education, the church fosters spiritual blossoming among believers. It aims to help members mature in their faith, gain a deeper understanding of biblical principles, acquire godly wisdom and discernment, and live out these principles in daily life.
A Biblical Church Governance in a Plurality of Godly Elders
Such a church employs a biblical model of governance, characterized by a plurality of godly elders. These elders are chosen based on their spiritual maturity and ability to teach the Word, shepherd the congregation, ensure adherence to biblical doctrine, and model Christian conduct. This plural leadership structure promotes accountability and mirrors the New Testament church's pattern.
Church Discipline
Lastly, a good evangelical church practices church discipline as outlined in Scripture in Matthew 18:15-20. While it can be challenging, church discipline seeks to correct those straying from biblical teachings in a spirit of love and restoration. This practice safeguards the church's purity, upholds the integrity of its witness, and fosters a culture of mutual accountability.
These are the core attributes that mark any Holy Spirit-led, evangelical, Bible-believing church. Rooted in Scripture, focused on the Gospel, and guided by God-fearing leaders, and constantly in prayer, these churches offer a spiritual home where believers can grow in their faith, serve the Lord, and reach out to a world in need of the saving knowledge of Jesus Christ.