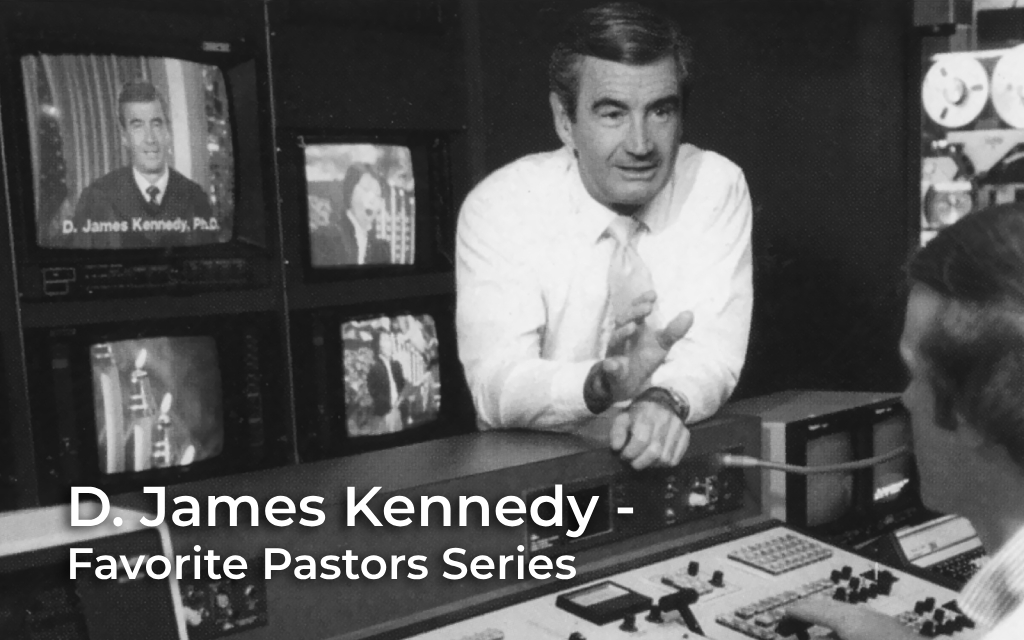 After a few months off, I'll continue my series on the men who I consider to be my Favorite Pastors of All Time. Today's choice is the late Dr. D. James Kennedy, who was the senior pastor of Coral Ridge Presbyterian Church in Fort Lauderdale, Florida for almost 50 years until his death in 2007.
Pastor Dr. Dennis James Kennedy, born on November 3, 1930, in Augusta, Georgia, was a charismatic and influential figure in Christianity. His life was marked by an unyielding faith, compelling preaching, and an unwavering commitment to spreading the Gospel. Through pastoral work, television ministry, and extensive evangelistic efforts, Dr. Kennedy left an indelible mark on countless lives. In this comprehensive biography, we will delve into the life, achievements, and lasting impact of this remarkable man of God.
Kennedy, known as "Jim" to family and friends, grew up in a devout Christian family. His parents instilled in him a strong foundation of faith from an early age. This upbringing set the stage for his future vocation in ministry.
As a young man, he pursued higher education at the University of Tampa, where he further nurtured his faith and explored theology. Subsequently, he pursued a Master of Divinity degree from Columbia Theological Seminary in Decatur, Georgia. During his time in seminary, his calling to pastoral ministry was affirmed and deepened.
In 1959, armed with a strong theological foundation and a profound desire to serve God, Dr. Kennedy founded Coral Ridge Presbyterian Church in Fort Lauderdale, Florida. The church started modestly, but his dynamic preaching and unwavering commitment to the Scriptures soon attracted a growing congregation.
Coral Ridge Presbyterian Church quickly became a significant force in the Christian community, both locally and nationally. The church's vision was to equip believers with a solid understanding of the Bible and to spread the Gospel of Jesus Christ.
One of the pivotal elements that propelled Dr. Kennedy into the national spotlight was his television ministry, particularly the program titled The Coral Ridge Hour. This televised platform allowed him to extend his reach far beyond the physical boundaries of the church.
Through this program, Dr. Kennedy's powerful preaching reached millions, delivering impactful messages and inspiring viewers to embrace Christianity. He used this medium to convey the timeless truths of the Bible and provide guidance for navigating the complexities of modern life.
Dr. Kennedy was a fervent evangelist, wholeheartedly embracing the Great Commission and salvation through faith in Jesus Christ alone. He believed in the transformative power of the Gospel and dedicated a significant portion of his ministry to evangelistic efforts.
One of his most notable initiatives was Evangelism Explosion, a program designed to equip Christians with the skills and knowledge needed to effectively share their faith. Evangelism Explosion gained widespread popularity and was instrumental in training believers around the world to confidently and compassionately share the message of salvation.
A significant aspect of Dr. Kennedy's ministry involved apologetics and defending the Christian faith. He recognized the importance of addressing doubts and intellectual challenges to Christianity. Through his books, articles, and speaking engagements, Dr. Kennedy engaged in robust apologetics, providing reasoned and thoughtful responses to skeptics and critics of the Christian faith. He believed that a strong defense of Christianity was vital for the growth and stability of the Church. A bit more on that later in this blog article.
Dr. D. James Kennedy's legacy is far-reaching, and his impact on the Christian community is immeasurable. He not only built a thriving congregation and successful ministries but also left an enduring mark on countless individuals who were touched by his preaching and teachings.
His dedication to the Gospel, commitment to evangelism, and passion for defending the faith continue to inspire believers worldwide. Many Christian leaders and pastors have been influenced by his teachings and approach to ministry, carrying forward his mission of spreading the Good News of Jesus Christ.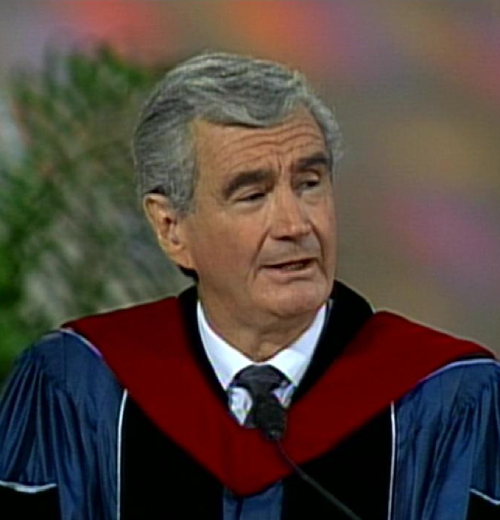 Why D. James Kennedy?
My first exposure to Dr. Kennedy was seeing him on local TV with the syndicated The Coral Ridge Hour, which happened while I was a newly-saved teenager. To my fresh, young eyes, his regular adornment of vestments such as his famous blue and red robe made me think that he appeared too old-fashioned and "Catholic-y" for me to immediately hop on board to being a regular viewer.
But after catching several minutes here and there over the course of a couple of months, I started to notice the power of his preaching. It was solidly biblical and always Gospel-centered, and I consistently learned a lot by tuning in whenever I could.
What really solidified me as a lover of Kennedy's ministerial efforts was after his appearance on The John Ankerberg Show, on which Kennedy put forth an excellent case for Creationism against Evolution. Within 48 hours of that show's taping, the proponent for evolution bailed from the debate, leaving Kennedy alone to set forth his well-thought-out case for Creation Science. I, being a fan of apologetics and science, ate this topical series up like the tastiest dish ever cooked.
Dr. Kennedy has been an amazing defender of the Christian faith in many other ways. Along with John MacArthur and R.C. Sproul, Kennedy gallantly took a hard stance for Biblical Christianity and the doctrine of Justification By Faith by refusing to sign the 1994 Evangelicals and Catholics Together document, which theologically compromised heavily in dealing with salvation through Jesus Christ. Catholics adhere to a belief that people are saved by their own good deeds in addition to the work of Jesus Christ, while true, historical Christianity teaches that it is 100% the saving work of Christ that the believer receives by faith, and Kennedy and the others thankfully stuck to their guns regarding this doctrine.
Dr. D. James Kennedy championed the idea that Christianity is a rational and evidence-based faith, supported by historical and scientific facts. He penned multiple books, such as "Why I Believe" (I'm holding a copy of this I bought in 1988 as I type this out), "Skeptics Answered," and "Solving Bible Mysteries," to articulate the case for Christian faith using history, science, and logical reasoning. Kennedy was the creative force behind "Who Is This Jesus?," a compelling one-hour television special that graced CBS affiliates during the holiday season of 2001, which boasted a whopping 20 million viewers. Following its success, Kennedy returned with an Easter follow-up titled "Who Is This Jesus: Is He Risen?" This enlightening show delved into scholarly perspectives on the reliability of the Gospels, particularly focusing on the claim of resurrection.
Kennedy was not only a devout Christian pastor and apologist but also an influential figure in the realm of American politics. He ardently advocated for conservative values and Christian principles, aligning himself with the Christian Right movement in America. Kennedy used his platform to address moral and social issues from a biblical perspective, emphasizing the importance of upholding traditional family values, pro-life beliefs, and religious freedoms. Through his involvement in organizations like the Coral Ridge Ministries and as a founding figure of the influential advocacy group, the Moral Majority, he mobilized fellow believers to engage in the political arena, encouraging them to support candidates and policies that aligned with their Christian convictions. Kennedy's political impact extended through his media presence, including radio and television programs, allowing him to reach a broad audience and influence the discourse on faith-based politics in the United States.
Pastor Dr. D. James Kennedy's life was a remarkable journey of faith, dedication, and impact, and God has definitely used him to shape my faith throughout the years.  Kennedy's influence in the realms of theology, evangelism, and apologetics remains significant, reminding believers to stand firm in their faith and proclaim the Gospel boldly to a world in need of hope and salvation.
Find Out More
Dr. D. James Kennedy Sermons:
https://www.djameskennedy.com/sermons
Dr. D. James Kennedy Biography:
https://www.djameskennedy.com/about-us