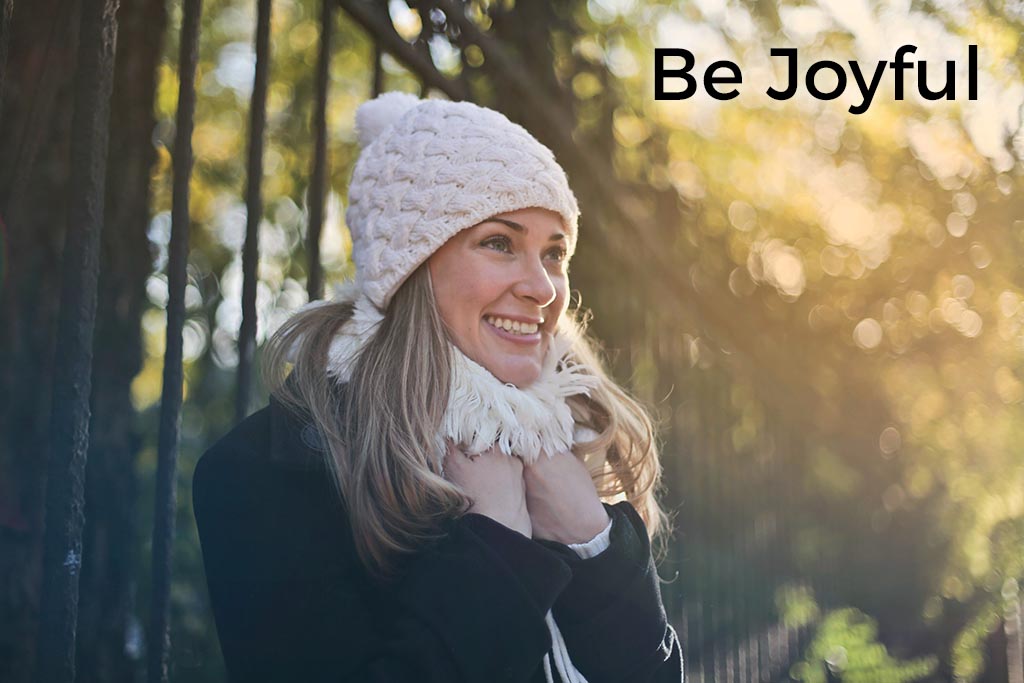 God wants you to be joyful! It says in Nehemiah 8:10, "And Nehemiah continued, 'Go and celebrate with a feast of rich foods and sweet drinks, and share gifts of food with people who have nothing prepared. This is a sacred day before our Lord. Don't be dejected and sad, for the joy of the Lord is your strength!'" [NLT]
I love this Scripture because it implies that God is joyous! Don't you think if God is up in Heaven and joyful that He wants us joyous too? Well, that's our strength! So receive that now! This Scripture says to me to be grateful for the good times and giving that can create an atmosphere of happiness!
2 Corinthians 9:7 says, "Each of you should give what you have decided in your heart to give, not reluctantly or under compulsion, for God loves a cheerful giver." [NIV]
I remember when I served food in a soup kitchen, and I was so grateful to see the homeless smile as they got food from me. It could have been the only food some of them have gotten all day! One thing that I noticed, too, is that their tough circumstances really humbled them. While I wish they weren't in their position, we all could learn a lesson or two from the homeless.
Galatians 5:22:24 says, "But the fruit that comes from having the Holy Spirit in our lives is: love, joy, peace, not giving up, being kind, being good, having faith, being gentle, and being the boss over our own desires. The Law is not against these things. Those of us who belong to Christ have nailed our sinful old selves on His cross. Our sinful desires are now dead." [New Living Version].
As you can see, joy is one of the "fruits of the Holy Spirit." I also believe that having more fruit of the Holy Spirit will enable us to live happier, fuller, and more purified lives. Is that the goal of a Christian? To be all God wants to be?
I know life can be tough at times, but if we remind ourselves to be patient, knowing that this life is short and great will be our eternal rewards! Keep hanging on and hanging on to Jesus! Be happy and be wise.
Proverbs 4:23 says, "Guard your heart above all else, for it determines the course of your life." [NLT]