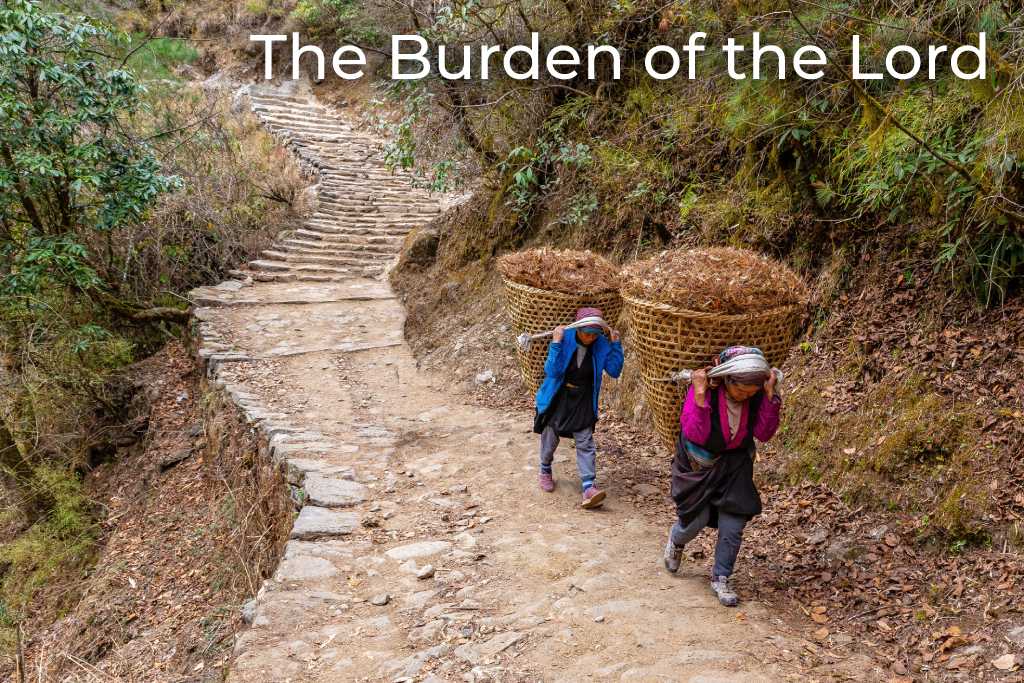 "The burden which the prophet Habakkuk saw."
– Habakkuk 1:1 [NKJV]
"The burden against Nineveh. The book of the vision of Nahum the Elkoshite."
– Nahum 1:1 [NKJV]
"The burden of the word of the Lord to Israel by Malachi."
– Malachi 1:1 [NKJV]
On the subject of prayer, I'm moved to remind myself and others that prayer is a two-way street. Through the spiritual avenue of prayer, we connect with our Heavenly Father. We bequeath to His care and consideration the burdens of our hearts and minds. While we may bemoan our current condition, we intreat the Holy One to intervene by changing us or the situation. How blessed are we to commune with the Divine! How gracious the auspices of the Holy Spirit are to lead us at the Father's invitation to cast our cares upon Him! Not to make too much of a feeling; however, sometimes our minds feel the weight of responsibility and our hearts the cares of this life. We, at times, carry a load of worry and anxiety due to unforeseen circumstances or "out-of-the-blue" mishaps. It is good that we can ask God for help to carry the load or remove it altogether. Is this not what our Savior modeled before us in the garden of Gethsemane? Did He not inquire of His Heavenly Father if there was another way to redeem humanity or if the cup of wrath and degradation could pass from Him? Thankfully, Christ received grace and strength to minister the sacrifice of His life for the sins of the whole world. We witnessed Him burdened and subsequently strengthened, and we conclude that God can support us to carry our burdens.
But who carries the Lord's burdens? How much thought have we given to the reality that God has burdens?! Yes, the Omnipotent feels the weight. The feelings of our infirmities have touched his heart, His mind has felt the sorrow for sin, and His spirit roused to jealousy and anger over a nation's disappointing decisions. Who does He have to turn to share His burdens? Though the Godhead is complete, His soul delights in a fellowship which is why Scripture frequently depicts God as "searching for a man." To whom does the Lord share His burdens? With those men and women who understand prayer is how sharing occurs. We are encouraged to relieve ourselves of problems we haven't the ability to solve, but how many are open to receiving God's burden and godliness? We take note of the prophets who constantly were given and shown burdens. Somehow they remained in a place where God could trust them. What they were shown unquestionably caused them hardship, especially in the case of Jeremiah. Yet, these men and women persevered and executed their duty faithfully.
I wish not to mysticize this privileged place of prayer only to encourage and inspire the desire for more familiarity and fellowship with God. That we shouldn't be selfish nor satisfied with God accomplishing our wishes but seek to do His will, however heavy it is. Consider the invitation from Job 22:21, "Now acquaint yourself with him, and be at peace." After all, Jesus has said, "my yoke is easy, and my burdens are light." The Lord is a burden bearer, and we should be too.