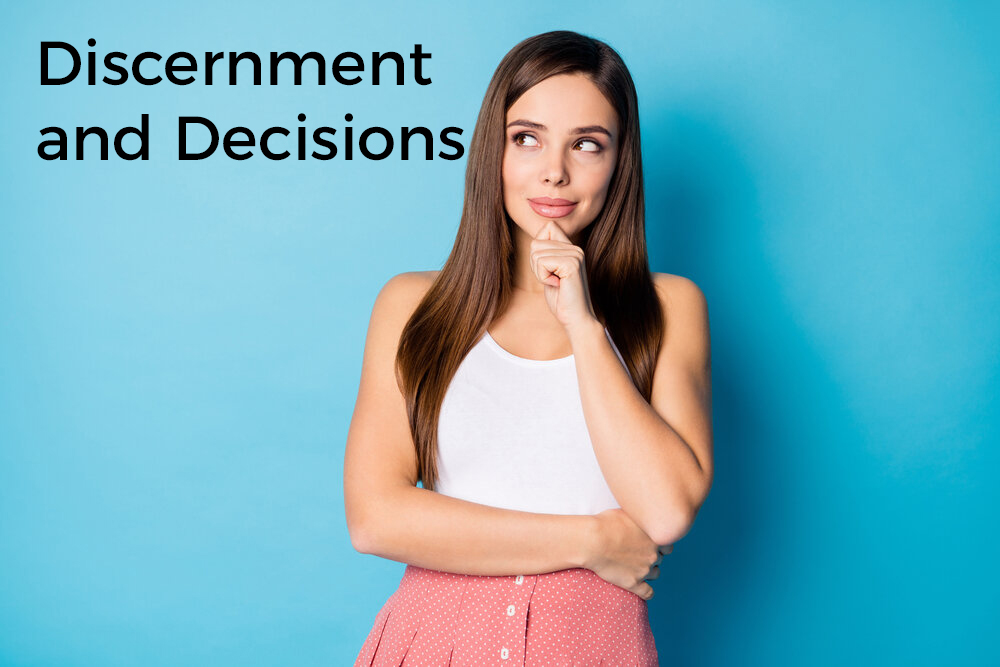 Our lives are filled with opportunities to make decisions. Some decisions involve everyday choices we face, such as what to wear or whether you should respond to an email. These are simple. These are a matter of preference. For example, we typically do not spend much of our time evaluating and determining the ultimate choice of what color shirt to wear. But other decisions are more complex. Decisions about a job, a move, additional responsibilities, or even relationships are decisions we do not make quickly. 
What strategies do you use to make important complex decisions? Do you write a list of pros and cons about accepting a job, relocating, or starting or ending a relationship? Decisions about relationships cannot usually be made by reading over a list of pros and cons. In honesty, decisions about relocation, new responsibilities, and job opportunities are rarely made simply by checking off the pros on the list. What then should we do?
Scripture provides guidance for life's complicated decisions. 
Seek wisdom. James 1:5 ESV

If any of you lacks wisdom, let him ask God, who gives generously to all without reproach, and it will be given him.
We must seek wisdom for the most complicated decisions. The first step in seeking wisdom is to read Scripture. Verses from the New Testament offer us guidance. Seeking wisdom includes praying for true understanding of the Scripture and of all facets of the decision you are about to make. It also includes seeking the wisdom of individuals with experience and knowledge that we may not have. Seek the counsel of a mentor, a pastor or a trusted, knowledgeable friend. Consider their advice and suggestions when you work through the decision.
Renew your mind. Romans 12:2 ESV

Do not be conformed to this world, but be transformed by the renewal of your mind, that by testing you may discern what is the will of God, what is good and acceptable and perfect.
Clear your head. Take a break first from the stress and pressure you may be facing in this situation. This can be simple to do: Take a long walk with no phone and no access to any social media. Let your mind rest. Take in deep breaths and observe the wonders of God's amazing world He created. Listen to soothing music while resting and follow only one rule: take a break from the decision-making process. With a cleared head, rely on God's Word to help you to discern what is good and what His will may be for you. Having a clear mind means you are open to receiving God's Word and listening to His wisdom as you read Scripture and think about your choices once again.
Seek discernment

.

Philippians 1:9-10 ESV

And it is my prayer that your love may abound more and more, with knowledge and all discernment, so that you may approve what is excellent, and so be pure and blameless for the day of Christ.
Our God is a loving father. He wants only what is good for us. He desires us to have success in our daily lives. This includes success in our love life, in all relationships, and in our work, no matter what that might be. Part of this desire for us is that we foster a love for Him wherever we are and whatever we do. Is the job we are considering one that God would want for us? Will this opportunity be one that will benefit our family, friends, and God? Pray for discernment that you may distinguish between what is only of this world to meet selfish gain and what will be of benefit and service to God, family, friends, and others, as well as ourselves. This does not mean that God would not want us to select a job that pays more money. It means that God wants us to make decisions that will also benefit others and bring us nearer to Him.
Strive for maturity of faith. Hebrew 5:14 ESV But solid food is for the mature, for those who have their powers of discernment trained by constant practice to distinguish good from evil.
God wants us to continue to grow in our faith. Growing in faith should be a factor when weighing opportunities and relationships. Growing in faith means reading Scripture more often and incorporating the Word into our daily lives. Will the new job provide us with a possibility to demonstrate the Christian lifestyle by example? To share our faith? Will a new relationship be grounded in our faith? As we mature in our own faith, learning the Word, and walking with Christ, the decisions we make will become more based in our faith and less on our worldly values.